KPL
AFC Leopards blame brokers as coach kicked out of apartment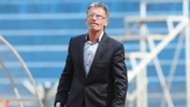 Former AFC Leopard coach Dorian Marin was locked out of his apartment following failure to pay the rent, Goal understands.
The Romanian tactician has been in the country for almost one and a half months since he was sacked from the Den, something he termed as illegal and even went on to reveal his intentions to sue the club. Ingwe chairman Dan Mule says the club should not be held responsible over his problems.
Michael Olunga misses out as Guizhou Zhicheng win in China
"Something we first have to understand, Marian did no have any contract with us, not at all. When we released him mid-last month, we did not have any money to pay him for the five days he had trained the team. We allowed him to stay where former coach Hall (Stewart) was living until the end of that month, then we settle his dues.
"I gave him Sh50, 000 to help him while waiting for the cash from the sponsors. Even when electricity and water services exhausted we still took care of it. At the end of last month, we paid him the Sh120, 000 for the five days he had trained the team and since the club had secured a return ticket for him, we did not expect any more problems."
Mule says brokers should be held responsible for Marin's tribulations in the country. "We had written to the management of the apartment where he was staying giving them a notice that we no longer needed it since we knew by the beginning of this month Marin will not be there.
"Well, we do understand that brokers deceived him that they will secure a job for him in Rwanda this month, but things have not gone as planned and now after he has been locked out, he has blamed us for his woes."
'Benched' Michael Olunga eyes loan move to Europe
AFC Leopards has since appointed Robert Matano as their coach until the end of this season.