CAF Confederation Cup
Aduana may have found a missing piece for the Caf Confederation Cup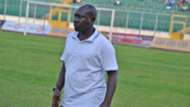 Aduana Stars' performance against Algerian side ES Setif in the Caf Champions League first round left more questions than answers. Following a slim 1-0 win in the first leg, the Fire Boys were underwhelmingly at sixes and sevens in the return fixture as the North Africans hit them for four.
Among the topical issues of the post-match was what could have possibly precipitated such an inglorious breakdown.
"They [Setif] are a good team that plays good football, but if you want to be fair, this weather [freezing cold] should not be accepted for football games," coach Yusif Abubakar said after the meeting.
"If you have to take advantage of this weather to win a football game, then it doesn't help football.
"If they think they will be using this to beat teams from West Africa, then they will be in trouble when they come to West Africa and have to face very hot temperatures.
"I'm not saying they are a bad team, but Caf needs to look into some of these things."
Abubakar's comments, reechoed by Aduana's chief executive officer Albert Commey, were taken with a pinch of salt, considering that Fifa-sanctioned matches are played in freezing snow, blistering heat and even in the outrageous high altitude of Bolivia.
So what, then, did not seem like barking up the wrong tree?
Since the 2016-17 Ghana Premier League ended in October last year, the Fire Boys had not played a competitive game, the local Super Cup aside, until they met Libyan club Al-Tahaddy, whom they defeated in February's preliminary round.
When they faced Setif in the next phase, they were evidently nothing but a side still in pre-season mode as the Ghana Premier League was in its off-season at the time. Their only test came in the Super Cup and the Ghalca G8 tournament, which they exited in the first round.
"The delay of the Ghana Premier League affected our team's play, and this is not debatable," striker Nathaniel Asamoah told Otec FM.
"Since we were not playing high-profile matches; it was always going to have an adverse effect on us because the more you play competitive matches, the more you gain fitness and correct mistakes.
It is for this reason that the return of the local topflight, albeit still as young as matchday four, is refreshing for Aduana ahead of Sunday's Caf Confederation Cup clash with Malagasy side Fosa Juniors.
Their trajectory looks good too.
Following a 0-0 draw with Elmina Sharks, Abubakar's side suffered a 2-0 defeat to Wafa before hammering seventh-placed Inter Allies 6-0 in their last game.
The Champions League is obviously water under the bridge, and there's still more work to be done, but going into the Confederation Cup, the Fire Boys appear to be more oiled than they have ever been this season.