A-League
A-League becoming like basketball, says 'mad' Markus Babbel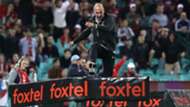 After being shown a straight red card for an angry reaction to a disallowed goal in the Sydney derby, Western Sydney Wanderers coach Markus Babbel believes the A-League is becoming like basketball.
VAR intervention on Saturday night saw a Roly Bonevacia strike in the second-half overturned for an apparent foul in the build-up which was later clarified as being a call for offside.
Regardless of the exact reasoning for the call, Babbel couldn't control his disbelief at the decision as he threw off his jacket and yelled at the fourth official.
Sent to the stands and allowed to regather himself as he saw his side slip to a 2-0 loss, the Wanderers coach remained adamant post-game that the goal should have stood.
"I have to apologise, my body language wasn't good after this but I hadn't said a word against the referee," Babbel said.
"But for me it's clear this is not a foul. I could see it on the screen, no-one has to explain me this.
"Where can he (Sotirio) go? He's not aware, he has to stay. The defender can run around him.
"I could see on the screen that it's not offside. For me it's 100 percent a goal."
Though denied a goal for offside and not a foul, Babbel stressed that he believes players are going to ground too easily in the A-League at the moment.
A total of 27 fouls were called in the derby with the German stating the game is resembling basketball more than football. 
"At the moment we play basketball on the pitch," he said.
"If someone gets touched you only have to scream and it's a free-kick, it makes me mad."