Primera División
A hard target: Elusive Centurion is proving himself as Carlos Tevez's Boca heir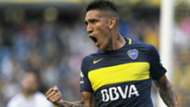 "If I was a defender, I would give him a kick too." He may have been joking, but Boca Juniors striker Dario Benedetto is in good company. The incredible quick feet and tricks of his Xeneize team-mate Ricardo Centurion have been driving defenders wild across the Primera Division, but more importantly are helping the Bombonera faithful get over the loss of Carlos Tevez as they swoon over the new idol at No. 10.
Formerly of Racing Club, where his headed goal clinched a first title in 13 years for the club back in 2014, Centurion had a brief, unsuccessful spell in Italy with Genoa and a mixed 18 months with Sao Paulo before landing in La Boca on loan back in August. With Tevez taking on playmaking duties the 24-year-old's impact was limited in his first weeks at the club, but he has come into his own since Carlitos took up the offer to become one of the world's highest-paid players at Shanghai Shenhua.
Could Ronaldo miss the Clasico?
The pair are wildly different on the pitch. While Tevez is most effective in and around the penalty area, either finishing off moves or playing the killer final pass, Centurion is an out-and-out winger with a penchant for making his marker look extremely foolish. With stepovers, nutmegs and a whole host of other tricks it is almost impossible to stop him legitimately – which goes a long way to explaining why most defenders choose the Benedetto route and chop him down with extreme prejudice.
As he explained back in 2014, however, it is nothing he is not already used to.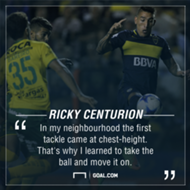 In 16 Primera Division games this season he has been fouled a whopping 44 times, while in 2015 and playing for Racing he almost had his leg amputated by a criminal Leandro Marin tackle against Boca. In the past his temperament has let him down, leading to him reacting badly to the hits and being punished in turn by referees with no few unnecessary red cards.
Nor is it solely on the field that Centurion's rather suspect judgement has been found out. Like Tevez he comes from a disadvantaged background; while Carlitos grew up in the slum of Fuerte Apache, 'Ricky' was born and raised in Villa Corina, a notorious shanty town in Avellaneda close to Racing's El Cilindro stadium. The winger was still travelling to training on his bicycle when he made his first-team debut in 2012, and has found it hard to leave behind his former life.
His first controversy came as a teenager in Racing, where a photo circulated of the youngster posing with a handgun. In the short time since arriving at Boca Centurion has seen himself accused of fleeing the scene of a drunken car accident, filmed in a Mar del Plata hotel beside himself with rage at an unknown rival and arrested for fighting in the small hours with a member of Racing's barra brava hooligan group in his old home of Villa Corina. If he is to reach his wonderful potential, he will have to curb that destructive side of his personality and mature both on and off the pitch.
"I am surprised that the fans, my team-mates and the coach trust in me," he confessed in an interview with Clarin before the season resumed at the start of 2017. It is an understandable feeling: as well as Tevez both Juan Roman Riquelme and Diego Maradona wore the No. 10, giving the number an almost unbearable weight and mystique at the club. But he has already started to repay that confidence with a series of virtuoso performances that have helped Boca cement their place five points clear at the top of the Primera Division table.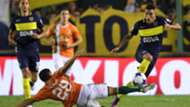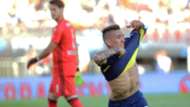 Such has been his impact that Boca are already looking to make the loan move agreed with Sao Paulo permanent, although his performances are not helping negotiations on that front. Impressed by what they are seeing in Argentina, the Tricolor are keen to see him rejoin their ranks once his deal ends in June, with Boca's only solution the payment in full of Centurion's 6.3 million release clause.
Coach Guillermo Barros Schelotto has already lost one star No. 10 in the last 12 months, and is not willing to countenance the exit of another. "Boca must make the effort to keep Centurion. The directors will doubtlessly do that," he told Radio Continental, in an interview where his respect for the unpredictable young talent was evident.
Ibra: Mourinho tells us if we're s***
"Centurion plays with great ability and speed, but he also has the character to always want the ball at his feet, and that is also excellent." Boca's No. 10 indeed plays like he did as a kid, running rings round his tough peers in the shanty town he called home much as Maradona and Tevez did in their formative years. Along with River Plate's Gonzalo Martinez he is one of the few natural dribblers left in the Argentine top-flight, a player that lights up an often uninspiring league with his tricks.
Since arriving at Boca he has added to that already potent talent a greater degree of tactical discipline into the mix, and has also worked on improving his performance in front of goal in a bid to become a more rounded player and not a one-trick pony. Centurion may not be Tevez, but he is proving that there is life after the last No. 10 as he stamps his own personality on the Xeneize's mythical shirt.