NPFL
3SC poor form could favour ABS, says Henry Makinwa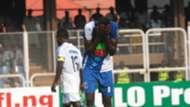 ABS head coach Henry Makinwa believes his side faces a great prospect of picking the vital three points against struggling Shooting Stars at the Lekan Salami Stadium.
Seeing their hosts languishing at the bottom of the Nigeria topflight log, the gaffer is confident they could be lucky to secure their first win away this season in Ibadan on Sunday.
"We are prepared for the game and after 90 minutes we will see what happens," Makinwa told Goal.
"But we are ready for Shooting Stars. We have not been lucky to get away points in our last games and we could be lucky get our first away point against them.
"I've told my boys to go out and enjoy themselves and play good football in Ibadan with no pressure but just express themselves and give a good account of ourselves.
"I don't like talking about other teams' situations but all I can see is that things are not going well for them.
"I believe it could be a psychological advantage for us and can favour us to win the game. All we expect is a good result in Ibadan."