Ajax v Manchester United
'Zlatan told the ball boys to go easy' - Mourinho salutes injured striker's role in Europa League win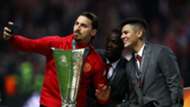 Jose Mourinho feels Zlatan Ibrahimovic's absence from the Europa League final was "unfair", but has saluted his contribution to Manchester United's success.
The Swedish striker was forced to take on a spectator role back in his homeland on Wednesday as the Red Devils edged past Ajax 2-0.
A knee ligament injury picked up in a quarter-final clash with Anderlecht brought his campaign to a close and prevented him from competing for the first continental prize of his glittering career.
Mourinho showing Pep how it's done
Ibrahimovic was, however, on hand to influence proceedings off the field, with Mourinho revealing that he led cheerleading and time management on the sidelines.
"I think it's so unfair what happened to him," Mourinho told reporters after the game.
"Sometimes football is unfair, sometimes life is unfair, I think it's so unfair.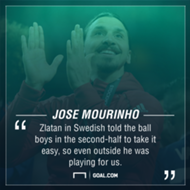 "This night would be an amazing night if he was on the pitch, in his hometown, in the stadium where his statue will be, his first club when he left Sweden, his actual club in Manchester United, a season where he made an amazing impact, I'm really, really, really sorry Zlatan has not played this final.
"But he played. He played outside with crutches with the other guys, Marcos Rojo, Luke Shaw, Ashley Young, Eric Bailly, they were playing behind the bench shouting, they were doing everything.
Ibrahimovic: My future? Let's see
"And on top of it, Zlatan in Swedish told the ball boys in the second-half to take it easy, so even outside he was playing for us.
"So I am so pleased he finally gets a European trophy."
Hobbling around the field in Stockholm could be Ibrahimovic's final involvement with United, as the 12-month contract he signed last summer is about to expire and no extension has been put in place.