Manchester United
Ibrahimovic: I rejected move to Van Gaal's Man Utd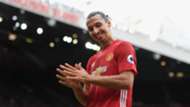 Zlatan Ibrahimovic has revealed he turned down a move to Manchester United while Louis van Gaal was the club's manager.
Man Utd will keep Ibra for second year
Ibrahimovic was one of four high-profile new arrivals at Old Trafford this summer, joining on a free transfer after the expiry of his contract at Paris Saint-Germain.
On Wednesday, Jose Mourinho confirmed that United plan to trigger the option of a one-year extension in Ibrahimovic's contract, keeping him at the club for the 2017-18 season.
The former Sweden international does not regret his decision, however, to spend a fourth year at PSG before making the switch to the Premier League.
"I could have come here a year earlier but I stayed at PSG," Ibrahimovic told reporters ahead of United's Europa League match against Feyenoord. "I didn't feel the moment was there and I have no regrets.
"I came here when I was 35. I could stay at home and feel happy but no, I will travel alone and conquer wherever I go.
"I will never turn down a challenge. Many players will stay in one place and keep waiting for their mother to cook for them. I could have stayed in Malmo and been comfortable.
"I have found a club that is on a level will all the big clubs I have been at - Barcelona, AC Milan."
The first four months of the season have not gone entirely as planned for United, but Ibrahimovic remains determined to help return the club to contention for major honours.
"United haven't won any big trophies in the last years but we have people in position to bring the club back to where it belongs," he added.
"We are working hard for it. United has to be at the top every year, but it takes time."
United are battling directly with Feyenoord to progress to the next round of the Europa League, but Ibrahimovic says he has no extra motivation to beat the Dutch side as a result of his association with Ajax.
The truth about Arsenal's Cavani chase
"It was a long time since I was in Holland - when I was in Ajax, Feyenoord won nothing," he said. "I have no feelings towards Feyenoord."