Goal United
Young Bafana Soccer Academy Prize Giving 2017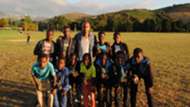 For the first time, all three performance teams were present and it was great to see the different age groups getting to know one another a little better.
Founder Bernd Steinhage opened the proceedings with a brief overview of a very successful season at Young Bafana. The U/18 finished fourth in the Super League and made the final of the Coke Cup. The U/14 won their promotion League with an unbeaten run and the U/12 ended third in the promotion League in their first year together and they also made the final of the KO competition losing narrowly to League winners, Wynberg.
Young Bafana has made great strides this year and Bernd thanked all the stakeholders from sponsors, parents, coaches, interns as well as all the other helpers in terms of marketing, special projects and media related matters.
A special word of thanks went out to all the interns who come out on three to six- month from disadvantaged backgrounds.
Robyn Johannes, Cape Town City Captain and our new Ambassador,  was the guest of honour and handed out the trophies to the deserving winners
In closing, Bernd thanked the players for their hard work at training and their dedication to both football and education and again stressed the importance of education on their journey into the future.