Jordan Henderson
World Cup semi-final defeat on England's minds ahead of Croatia clash - Henderson
Jordan Henderson says that England's players and fans still have their World Cup semi-final defeat in the back of their minds as Croatia visit Wembley Stadium on Sunday with all to play for in the UEFA Nations League.
England can win Group 4 in League A and qualify for the semi-final with a victory but they can equally get relegated and see the World Cup finalists through instead with a loss, as the match becomes decisive for the new European competition.
Henderson was a key part of England's World Cup team and he was part of the 2-1 defeat to Croatia, which saw England's best tournament run since 1990 come to an end. The 28-year-old admits it is hard to forget the moment his side were knocked out but he is also impressed with how England have progressed since that loss.
"I think in football you've got to move on. It's about development. It's about us as a team. It's not about anyone else," Henderson said at Wembley after the 3-0 win over the USA in a friendly.
"I think deep down you'll always have it in the back of your mind because it's a huge moment for many of us.
"Well for all of us really to lose that game, of course, so it's always inside. But I feel as though since then we've bounced back brilliantly.
"We've won some big games, some good games, especially last camp so it's another big test for us. They're a good side."
Henderson went on to call Croatia a "fantastic" team, one which will push England in a big way once again.
But the Liverpool midfielder cited England's last Nations League game as an example of how good the Three Lions can be.
In that match, England blitzed past Spain, 3-2, with a trio of first half goals, and that momentum is something that the team is hoping will continue on through the group finale.
"We need to take a lot of confidence from that going into Sunday," he said, "and use it as much as we can to get the right result. I'm sure you will make it big [the media]! It's a nice story for you isn't it! But no, for us as a team we'll always have it inside. It's a World Cup semi-final no matter who it was against.
"But like I say, since then I feel as though we've come so far and we need to go and produce that again on Sunday and then, after the game, we can hopefully say a lot of positive things because it could get us to a semi-final again. And that's all our focus will be on, but it'll be tough because they're a fantastic team.
"I think we've reacted really well after the World Cup. I think it would have been easy just to sort of think, 'Yeah we had a decent World Cup', and go through the motions, but the first camp back we were straight back at it.
"We knew we had to improve on a lot to go further in tournaments and to get to finals to win competitions. We knew we had a decent World Cup but we felt we could have done better, so I think that's sort of spurred us on to keep going since then."
Gareth Southgate has been stressing to his players and the media this week that the final step to winning a tournament will be the hardest, despite their improvements since the World Cup.
The 3-0 win over the USA was comprehensive on Thursday with Callum Wilson, Alex McCarthy and Lewis Dunk making their debuts. Jadon Sancho also earned his first start, as Southgate casts his net wide for the next group to help England achieve glory.
Henderson thinks that the competition for places is high, with the youngsters from the recent U-19 World Cup win and U-20 European Championship wins coming through.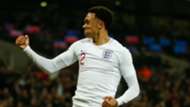 "I thought the performance was good, we scored some good goals," he added. "A lot of the lads made their debuts and obviously it was a special night for Wayne (Rooney), so overall it was a good night. We've got an amazing squad of players and great talent everywhere.
"Anyone can play in any game so you've got to be ready and you've got to be 100%. Training is at a high level as you've seen tonight. A lot of debuts, but fantastic performances. There's a lot of competition throughout the team but that's how it should be and hopefully that can push us on going forward."
England used Thursday's friendly to celebrate a former leader in Rooney, who came out of retirement to earn a 120th cap off the bench alongside fellow substitute Henderson. Rooney delivered a speech in the dressing room prior to kick off, as the current crop of England players got behind the FA's decision to honour their country's record goal-scorer.
Henderson appreciates the contribution that Rooney has made to England and revealed that he offered his thanks to the country's departing hero.
"He carried a lot of weight on his shoulders (in the past)," he concluded. "But he did it very well, he scored a lot of goals and he was a fantastic player for this country for many years. Tonight even when he came on he looked sharp.
"He looked lively and I thought he was going to get a goal towards the end but unfortunately, he didn't. I'm sure if you ask him he would have enjoyed playing there with a lot of the young lads. He just thanked us for this week, but we should be thanking him really for what he's done for this country.
"He's been brilliant in training this week and you can still see he's got the quality there. I thought he was going to score which would have been the icing on the cake but it was an amazing night for him and his family and also an amazing night for some of the lads who are making their first caps.
"For Callum [Wilson] to get his goal as well and also Trent [Alexander-Arnold] to get his first goal. It was a big night for a lot of people overall really."