World Cup
World Cup predictions presented by McDonald's | France or Uruguay?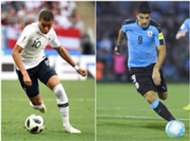 The quarter finals begin on Saturday and it's all about who will make it through to the next stage of the tournament, the winner will be within two games of being crowned World Cup winners.
The first game will be a very tough one, between Mbappe's France and Cavani's Uruguay who proved against Argentina and Portugal respectively how good they can be.
So what's your prediction? Who can make it and be part of the best four teams in the competition?