Son Heung-Min
Why Spurs could lose Son Heung-Min for 22 months unless he wins Asian Games gold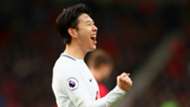 Tottenham still carry fears over the future of star attacker Son Heung-Min, who may be forced to undergo military service in his native South Korea.
Conscription in the country has existed since 1957 and requires men between the ages of 18 and 35 to spend two years performing compulsory military service.
However, there are ways Son can find himself exempted from service. Usually, in South Korea, only those with a disability or "mental incompetence" are exempted.
But athletes who win a gold medal in either the Olympics or the Asian Games are allowed to forego their duty and are merely required to attend a few days of military training per year.
South Korea will compete in the Asian Games this year, so winning the football competition would exempt a number of recognisable stars, including Son.
The tournament runs until September, meaning Son would miss the beginning of the Premier League season, if he were to pursue this goal.
The country are also involved in the 2018 World Cup, facing Sweden, Mexico and Germany in their group, and are aware a strong showing could lead to special treatment from the government.
The South Korean government made a special case of the team who attended the 2002 World Cup and finished fourth. It was announced that they would be free of the distraction of service when they reached the last 16, winning a group also featuring USA, Portugal and Poland.
That allowed the likes of Park Ji-Sung, a former Manchester United player who was equally revered in England as his homeland, and Ahn Jung-Hwan, who scored the winning golden goal against Italy in the knockout stages and was subsequently dismissed by Italian side Perugia, to skip military service.
Thus, Son must succeed at international level or face missing two years of his career, which is blossoming under the tutelage of Mauricio Pochettino.
Son has scored 18 goals thus far this season in all competitions, while he has also won 61 caps for South Korea, netting 20 times in total.
An excellent winger capable of changing games with his pace and finishing ability, Son is the club's second-most productive finisher after the inimitable Harry Kane, and Pochettino will surely hope that he can taste success internationally this year.