Premier League
Wenger hits back at fan protests: Arsenal are not fighting to not be relegated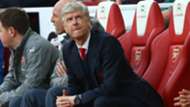 Arsene Wenger has sent a message to the Arsenal fans who continue to protest against him by reminding them that the Gunners aren't in a relegation battle.
The Arsenal boss, who has been under severe pressure this season following a series of poor results which have seen the club knocked out of the Champions League for the seventh consecutive season and their title challenge dissipate, prompted the supporters to stage fresh protests on Tuesday at London Colney training ground.
Wenger dismissed that protest as three guys and said that it was 'good they could waste their day like that', but in his programme notes ahead of Wednesday night's Premier League match against West Ham United the Frenchman reiterated that the season is not a complete write off just yet - and suggested that his critics should put things into perspective.
Wenger in his programme notes: "I think it's a good opportunity to remind people we are not fighting to not be relegated." pic.twitter.com/eYmf2qnoqk

— Chris Wheatley (@ChrisWheatley_) April 5, 2017
Even if we were, he'd find a way to spin it as 'like winning a trophy'. https://t.co/ECy4lzyFLC

— Piers Morgan (@piersmorgan) April 5, 2017
"Finishing in the top four is a good challenge but I think it is perfectly possible," he wrote.
"The experience of having done it before will play a part of course, but I think it is just about sticking together and continuing to right. If we show the same spirit we showed against City, we will win football games.
"We were unbeaten for 19 games this season, and I think it's a good opportunity to remind people we are not finishing to not be relegated, we are fighting to have a positive end to the season."