Juventus v Real Madrid
WATCH: Deco, Salgado and Davids on the UEFA Champions League Trophy Tour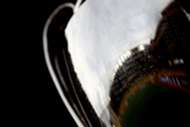 They've all had their hands on it before. This was a re-acquaintance. 
Ahead of the UEFA Champions League Final at the National Stadium of Wales in Cardiff on Saturday, Deco, Michel Salgado and Edgar Davids were up close once more with the greatest trophy in European club football. 
As part of the Champions League Trophy Tour, the trio joined Goal, in conjunction with Nissan, and escorted the precious piece of silver known as 'Big Ears' on the final part of its journey to the stadium before Real Madrid took on Juventus.
The three legends claimed the trophy for a combined five times throughout their careers, making them more than fitting to deliver the prize. 
Watch the videos above to see the three famous names with the trophy that matters most!
Check out more UEFA Champions League Nissan content on Goal.com