FA Cup
Video technology IN, FA cup OUT - SMH plans to revolutionise football!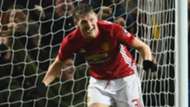 Has the FA Cup run past its sell-by date? Goal's Peter Staunton certainly thinks so - but our resident angry man has some ideas over how to save the world's oldest cup competition. 
But the "waste of time" that is the FA Cup is far from the only thing that has got Peter's goat this week. 
The star of SMH pulls no punches when it comes to bad refereeing decisions, with Betis-Barcelona falling under the spotlight this week. 
Is video technology the answer? Was it indeed a "f***ing goal?" Check out the latest episode of SMH and judge for yourselves!