Sponsored
Video: NIVEA MEN - Sergio Ramos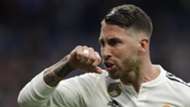 Sergio Ramos is perhaps one of the most famous footballers in the world right now. He is known for his excellent defending and maintaining a certain level consistency at the highest level. He will also be remembered for his aggression, his last-minute goals, his leadership and for being a player who has won a lot of silverware over the course of his career.
Ramos arrived at Santiago Bernabéu from Sevilla in a last-minute transfer deal in September 2005. The Galacticos spent €27 million - from Micheal Owen's sale - for the then 19-year-old Sevilla defender who signed for them on an eight-year deal.
Ramos is one of the Real Madrid Stars featured in the NIVEA Men TV advert
He would turn out to be, not only one of Madrid's greatest imports, but also one of the worlds greatest figures. 
Ramos is six caps (161) away from becoming Spain's most capped player of all time (166) while he is also closing in on the same record for Los Blancos having now played 583 times. 
Initially signed as a right-back, Ramos shifted to central defence under Jose Mourinho and has been there ever since, for both club and country. 
Having won back-to-back European Championships and the 2010 World Cup with Spain, he has pretty much endured the same success with Madrid. Leading them to three back-to-back Uefa Champions League, the 2016/2017 La Liga title, 2x Uefa Super Cup,  2x Club World Cup and the Spanish Super Cup since he succeeded Iker Casillas as club captain at the beginning of the 2015/2016 season. 
Thus it is very tough to dispute his position as one of the best defenders in world football.  He rises to the big occasions and is among the foremost figures when speaking about the goal-scoring defenders. 
Without a doubt, he is his team's heartbeat and an extremely tough opponent for any striker to face. His reading of the game, aerial prowess in both boxes and all-round fighting spirit is unmatched.