ConIFA World Football Cup
VIDEO: 2018 CONIFA World Cup, a tournament with green cards and a different kind of atmosphere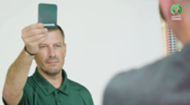 The 2018 CONIFA World Cup is finally upon us.
16 national teams representing unrecognised states and regions will go to head-to-head in a number of stadiums dotted around London. There will also be representation from the UK, with sides from Yorkshire and the Isle of Man gunning for glory.
The most recognisable figure won't be any of the players, though - referee Mark Clattenburg will be bringing his officiating expertise to the tournament which will be introducing green cards, a sanction that will dismiss a player but allow his team to replace him with an unused substitute.
"I think my Saudi Arabia experience is going to help [during CONIFA]. I've now sampled Asian football which is completely different to European footy and I've also had the luxury of refereeing South American football. Getting all the experience from all the continents certainly helps."
Bringing all the unaffiliated teams together for a global sporting event to celebrate the underdog has proven difficult at times, but CONIFA'S mission is simple, according to the organisation's president Per-Anders Blind.
"For me, CONIFA is a big peace mission," Blind said. "Our mission is all about creating a better world but by using football and culture as a tool for that.
"If you come and watch our games, what you will feel is a different kind of atmosphere. You can't find it in traditional football."
Watch the video above to learn all about CONIFA.
Teams, fixtures and everything you need to know about the CONIFA 2018 World Football Cup