Barcelona
Valverde looking to 'win everything' in his debut campaign as Barcelona boss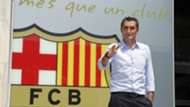 Ernesto Valverde is setting ambitious targets after succeeding Luis Enrique at Barcelona, with his intention to "win everything" at Camp Nou.
Having graced the club's books as a player, the new man at the helm is aware of the level of expectation he will be working under.
He is, however, determined to embrace that and make Barca a dominant force once more.
Messi returns Enrique compliments
Luis Enrique won La Liga and Champions League titles during his three-year spell in the dugout and Valverde is aware of the need to push for those crowns once again – with both currently owned by arch-rivals Real Madrid.
"I want to win every game, from first to last, I want to win everything, that's my intention," he told Barca TV.
"If there's a good atmosphere and a group that push you, everything becomes much easier.
"It's a challenge, a responsibility and a dream because Camp Nou will be full of people who expect a lot from us, so we must be able to return the favour.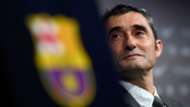 "I want to convey everything I feel to the fans, and that can vibrate with the team.
"Even though I already knew about it, I'm realising the sheer size of this club. When a club like Barca call you, it's always a great moment.
"I decided to end my four-year spell in Bilbao. Sometimes, for a club like Barca to call you, not only do they need to like your style, but it must also coincide with timing, your situation."
Barca congratulate Madrid's success
Valverde added: "The game is a reflection of the coach's idea. I want a team spirit that infects the people at the club, a style of play that is intense, a team that carry the weight of their game and an ambition in accordance with what's asked of us.
"There are many things that I already see in this team. The formation sets the base for your idea, and you have to make sure the players are comfortable so that you can achieve what you want to achieve."
Barca ended the 2016-17 campaign with just a Copa del Rey success to show for their efforts, having been pipped to the Liga title by Madrid and bowed out of the Champions League at the quarter-final stage to Juventus.