UEFA Champions League
Valentine's Day Massacre! Shocking Barcelona & Luis Enrique on the brink of disaster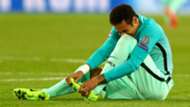 ---
COMMENT
---
A night to forget for Barcelona and Luis Enrique. The Blaugrana boss surprisingly selected Andre Gomes in midfield away to Paris Saint-Germain and saw his side swept away by the French champions in a devastating defeat. He really should have seen it coming.
Inter used Messi to make fans dream - sponsor
PSG coach Unai Emery is a meticulous tactician who led Sevilla to three successive Europa League titles before moving to Paris. The Basque is an expert at exploiting rivals' weakness and even though he had overseen only one victory in 24 matches against Barca prior to this, he had always caused them problems.
But not quite like this. With Aleix Vidal sidelined for the rest of the season after his horrific injury at the weekend, Emery knew that Sergi Roberto would start this match at right back and deliberately targeted that channel.
Luis Enrique must have known that would happen, yet he selected Andre Gomes in front of the Catalan instead of Ivan Rakitic. The Croatian would have offered greater protection to the 25-year-old and is also aggressive. The Portuguese provided none of that and also missed a great chance at 0-0.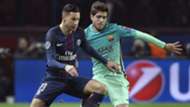 But by the time Gomes departed, Barca were 3-0 down. Angel Di Maria had opened the scoring with a fantastic free-kick after 19 minutes, while Julian Draxler made it two shortly before the interval as Jordi Alba was caught out on the left side.
Barca & Alaves to play Copa final at Vicente Calderon
Both Alba and Sergi Roberto were guilty of making mistakes, while Marc-Andre Ter Stegen could perhaps have done better for the second goal and Samuel Umtiti gave away the free-kick for the first with a clumsy foul.
Even before the opener, Rafinha was warming up for Barca. Luis Enrique could tell that things were not working and was already contemplating a change, yet it did not come until far too late.
Gomes was almost anonymous and should have been brought off much sooner, while even Lionel Messi was being crowded out and pushed into areas where he had little influence. In fact, the Argentine attacker was at fault for PSG's second as he gave the ball away carelessly.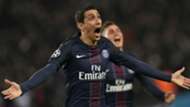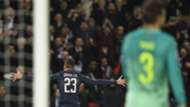 At 2-0 down, Barca were still in the tie and Luis Enrique could have brought on Rakitic for Gomes at half-time. Instead, however, he failed to react, the pattern from the first half continued into the second and when Di Maria curled home for 3-0, the Catalans looked like a beaten team.
Denoueix: Verratti is Xavi's natural successor
And when the Blaugrana did eventually start to push, it was at 4-0 down. Too little, too late. And now they need a miracle to stay in a competition they won four times between 2006 and 2015 - the last of those in a treble triumph under Luis Enrique.
The Asturian coach is yet to agree a new contract with the Catalan club and after this result, the return leg at Camp Nou may well be his last as coach of the Blaugrana. Because overturning a 4-0 deficit will be almost impossible - even for this team. No other side has achieved it and PSG look too good to throw it away from here.
There were shades of the Munich defeat about this for Barca - the 4-0 loss to Bayern at the Allianz Arena in the semi-finals in 2013. But that came with a team in turmoil, the late coach Tito Vilanova having taken time out for cancer treatment and Messi struggling with injury and fitness problems. There were also key decisions that went against them on that night, despite their poor performance.
There was no excuse for this, though, and no extenuating circumstances either. This was the most dire display in the club's modern-day history and it surely marks the beginning of the end for Luis Enrique as well. If only he had reacted sooner.