World Cup
'Utterly choked, but they gave everything' - England's young lions praised despite World Cup semi defeat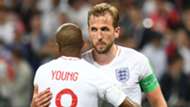 So near, and yet so far. England had looked to be on the cusp of the World Cup final, but fell victim to a determined Croatia side that never gave up in a last-four battle. 
Having got past Colombia and Sweden to reach their first semi since 1990, England enjoyed a dream start when Kieran Trippier smashed in a free-kick in the opening minutes . 
But the Three Lions failed to build on their advantage, and it was Ivan Perisic who restored parity after the break with an improvised finish over the sprawling Kyle Walker. 
And Mario Mandzukic ended any hopes of a trip to the decider with a cool finish in extra time, sealing the final result at 2-1 in the Balkan side's favour . 
It has been an exhilirating ride for England's faithful through Russia, however, and despite disappointment Gareth Southgate's charges were praised highly for a fine campaign. 
Utterly choked, but this young side gave absolutely everything. It's a huge step forward and they'll only get better in the future. They can hold their heads high, they did our country proud. Congratulations to Croatia.

— Gary Lineker (@GaryLineker) 11 de julio de 2018
Thanks to the England team, and manager, for giving us this beautiful World Cup run. It's been a ride.

— David Baddiel (@Baddiel) 11 de julio de 2018
Despite being born in Spain, I've felt a real bond with the England team because of their football & the values they've shown. I've seen a united, confident & ambitious side that's connected with the whole country. No doubt they're a GREAT TEAM. Thanks, @England .

— Pep Clotet (@pepclotet) 11 de julio de 2018
Well done .. Proud of every single person involved tonight for England .. Wasn't to be ... 🏴󠁧󠁢󠁥󠁮󠁧󠁿🏴󠁧󠁢󠁥󠁮󠁧󠁿🏴󠁧󠁢󠁥󠁮󠁧󠁿🏴󠁧󠁢󠁥󠁮󠁧󠁿🏴󠁧󠁢󠁥󠁮󠁧󠁿🏴󠁧󠁢󠁥󠁮󠁧󠁿🏴󠁧󠁢󠁥󠁮󠁧󠁿🏴󠁧󠁢󠁥󠁮󠁧󠁿

— Michael Vaughan (@MichaelVaughan) 11 de julio de 2018
Take a bow @England .

— Jim White (@JimWhite) 11 de julio de 2018
Far exceeded expectations. Well done @England and well done @GarethSouthgate you have been brilliant. Given us great entertainment and found a system and given us hope. #threelions #RussiaWorldCup2018

— Alan Shearer (@alanshearer) 11 de julio de 2018
You've done us proud tonight, @England . #ThreeLions #AVFC

— Aston Villa FC (@AVFCOfficial) 11 de julio de 2018
A game that needed to be won by England when they were in the ascendancy in the first half. You have to marvel at Croatia: a population half the size of London & in a World Cup final

— Sam Wallace (@SamWallaceTel) 11 de julio de 2018
Pretty amazing that England and Belgium will play each other twice in this tournament, with both games being basically meaningless.

— Paddy Power (@paddypower) 11 de julio de 2018
Omg Gareth Southgate literally picking the boys up off the floor. Can't cope. So many emotions. Proud of you, England. Next time. X

— Tanya Burr (@TanyaBurr) 11 de julio de 2018
It's coming home, it's coming home, it's coming, England's flight is coming home.

— Lucas Navarrete (@LucasNavarreteM) 11 de julio de 2018
Probably not the right time / fitting the national mood etc, so apologies...but what a missed opportunity. England after HT completely outplayed for 75mins and didn't try to alter anything that might have changed the balance of play. Left two up top, barely involved. Such a shame

— Michael Cox (@Zonal_Marking) 11 de julio de 2018
Amazing, Hrvatska! Such determination! It sounds like a revolution in the streets here in Podstrana! Must be the smallest nation in the Final since Uruguay. Historic! (Sorry England & @nigelshortchess !)

— Garry Kasparov (@Kasparov63) 11 de julio de 2018
Congratulations England 🏴󠁧󠁢󠁥󠁮󠁧󠁿 QFs would have been more than happy. Giving the nation such a lift way more than anyone expected 👏👏👏

— Omid Djalili (@omid9) 11 de julio de 2018
Well done @England on the fantastic achievement of reaching the #WorldCup semi-finals. It wasn't to be this time, but you played like lions and made us all so proud. 🦁🦁🦁 #ThreeLions

— David Cameron (@David_Cameron) 11 de julio de 2018
They have performed better and been more successful than any England squad since 1990, the players, squad, staff should lauded and applauded
👏🏼👏🏼👏🏼

— Brian McClair (@BrianMcClair13) 11 de julio de 2018