CONCACAF Gold Cup
U.S. grouped with Panama and Mexico gets Jamaica in 2017 Gold Cup draw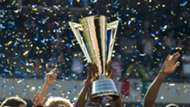 The United States will face Panama in the 2017 Gold Cup group stages while Mexico's group will feature a rematch of the 2015 final against Jamaica.
The U.S., will face Panama to kick off Group B, July 8 in Nashville. Martinique and the winner of a playoff between Haiti and Nicaragua round out the group. The U.S. and Panama met in the 2015 tournament's group stage, with the teams drawing the contest. They also met in the third-place game that year, which Panama won on penalties.
Arena being cautious on Dempsey return
Group B will play their other games July 12 in Tampa and July 15 in Cleveland. 
Gold Cup group-stage matchups, schedule unveiled https://t.co/1e360rokmh #GoldCup2017 #CONCACAF @ToyotaLatino pic.twitter.com/3SFOstJHdg

— Gold Cup 2017 (@GoldCup) March 7, 2017
Mexico opens its group play on July 9 in San Diego against El Salvador. The headliner of Group C, however, features a 2015 Gold Cup final rematch featuring El Tri facing Jamaica on July 13 in Denver. Mexico closes out its group with a match against Curacao on July 16 in San Antonio.
Group A will feature Honduras, Costa Rica, Canada and French Guiana. The two Central American rivals will kick the tournament off on July 7 in Harrison, N.J.. The group's other matches take place July 11 in Houston and July 14 in Frisco, TX. 
All three group winners advance to the knockout stages of the competition, as do each group's runner up. The top two third place teams also advance. 
The Gold Cup kicks off July 7 and will conclude July 26.