KPL
Ulinzi Stars coach Dunstan Nyaudo hails Ibrahim Shambi after display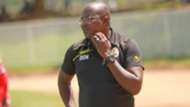 Ulinzi Stars coach Dunstan Nyaudo has hailed youthful star Ibrahim Shambi for his performance against River Plate FC on Saturday.
Shambi was among the key players in the team's win over River Plate FC as Ulinzi Stars opened the month with a convincing result to reach the semis of FKF Shield Cup and the midfielder has been praised for his display and general growth.
Shambi led the Ulinzi Warriors (Ulinzi Stars U-20) side to the KPL U-20 title two years ago and since then he has risen as a player and coach Nyaudo has not missed the progress he has had in the team lately.
"Shambi has shown not just improvement in the past few matches but also good growth as a player. His performance in the River Plate game was just a glimpse of the man coming up in the boy.
"He showed good balance in his attacking and defensive play and I have to say I was impressed with his overall performance in the match," Nyaudo told the club's official website.
In the game against River Plate, Shambi was key in both defence and attack and capped a fine afternoon with a stunning first half goal at Bukhungu Stadium, attracting glowing praise from the coach.
"His awareness was on top and he will definitely get better as he continues learning."