Uganda
Uganda wary of Ghana ahead of Afcon opener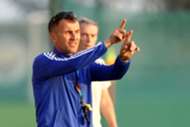 Uganda coach Milutin 'Micho' Sredojevic is treading cautiously ahead of his side's clash with Ghana at the 2017 Africa Cup of Nations in Gabon on Tuesday.
The Cranes will end a 39-year absence from the continental showpiece when they take to the field at Stade de Port-Gentil.
The East Africans have been a tough nut to crack for the Black Stars off late, having gone undefeated in their last three meetings.
"The last time we played in the Africa Cup of Nations was the 1978 final against Ghana," Micho said at the pre-match presser on Tuesday.
"After 39 years, we are back and our first match is against Ghana again. It is a meaningful destiny. 
"Ghana is a great football nation and we have very good relationship with them; they are like our role models. 
"In the last three encounters they have failed to beat us, but as they say 'history will not play tomorrow'. We have no experience but we are full of confidence."
The Cranes beat Comoros in September to book their place at Gabon 2017.
"Every match is like a final for us. We respect our opponents but we will work hard and try to do our best," Micho added.
"It is a test of how far to go and if we want to be among the best in African football we have to prove that.
"Ghana is a team with top class players and they are one of the tournament favorites. 
"Since 2008, they are always in the top four. They were runner-ups two years ago; this proves they are a top team. What I think of them I will share with my players, not to the public."
Uganda will subsequently play Egypt on January 21 before rounding off their group campaign against Mali four days later.