Tripple 44's Emmanuel Adeyemo and Abioye Michael train with BK Hacken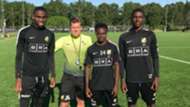 Emmanuel Adeyemo and Abioye Michael had a chance to train with Swedish elite division side Bk Hacken.
The youngsters who are players of Tripple 44 owned by Samuel Olatunji Okuku, had a chance to with the Gothenburg thanks to the club's partnership with TikiTiki Football Development.
Impressed with their performance with the Wasps, head instructor of TikiTaka Football Development, Tommy Johansson claimed the duo boast of great prospects, while tipping them to greater things.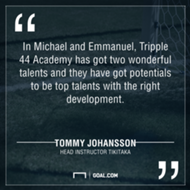 "In Micheal and Emmanuel, Tripple 44 Academy has got two wonderful talents and they have got potentials to be top talents with the right development which is what TikiTaka Football Development seeks to offer Tripple 44 and its players," he said.
Adeyemo will have a chance to showcase his skills at one of the biggest youth platform, the Gothia Youth Cup between 15 and 21 of July when he stars for the TikiTaka Nigeria Team who are losing finalists in the last edition.
TikiTaka specialise in the development of coaches, players plus club development, and are offering the Ibadan based academy expertise in players and development of its technical personnel.