Manchester United
Transforming Man Utd will be biggest task Mourinho's ever had - Neville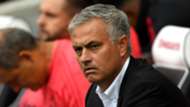 Jose Mourinho's struggles at Manchester United have left him facing "the biggest task he's ever had", says Gary Neville.
The Portuguese has found himself in testing situations before, with Chelsea having parted with his services on two occasions in the past.
Mourinho is, however, unaccustomed to seeing his methods called into question on such a regular basis.
He is now firmly under the microscope at Old Trafford, with a 3-0 defeat against Tottenham on Monday leaving United to reflect on their worst start to a Premier League season in 26 years.
Pressure is mounting on Mourinho and Neville admits it is up to him to see an underperforming team through the other side.
He told Sky Sports: "The manager is always the one where the buck stops and Jose Mourinho has been the most successful manager in football in the last 20 years, along with Pep Guardiola, and he's going through a difficult moment over a couple of seasons.
"This is the biggest task he's ever had in his life in football and he's got to come out of it.
"I look at the squad and the team and I'm not sure what the best XI is, what the best strike force is, I'm not sure there's a back four there. You are just going to have to back certain players and go with them and stick with it, rather than changing it every single game.
"The buck stops with the manager and I have to say, at the moment, it doesn't look a balanced outfit there at all."
United did hold their own against Spurs for long periods before suffering a humbling defeat, with Neville suggesting that an inconsistent spell from the Red Devils is down to a lack of organisation.
The former United defender added: "Before the game we didn't have a clue how Manchester United were going to set up and I'm not sure anyone would have picked that starting system.
"They may have worked on it in the last four or five days, but Tottenham are so consistent and so stable.
"With Manchester United, it's like you could throw those balls [players] into a bingo machine and anyone could come out at any time. You don't know where [Paul] Pogba is going to be or where Fred is going to be. [Ander] Herrera is centre-back and [Jesse] Lingard is all over the pitch.
"There's only a couple of players where you know where they are going to be. There is such a disorganisation at times that they were always going to get beat once the game settled down, even though there was a lot of spirit in the performance."