Tottenham Hotspur
Tottenham risk losing Pochettino amid negative atmosphere, says Redknapp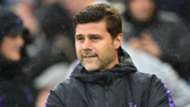 Tottenham run the risk of losing Mauricio Pochettino amidst a negative atmosphere around the club according to Jamie Redknapp, who also denounced the delay over the completion of the club's stadium as "embarrassing".
This summer, Spurs became the first Premier League club in the history of the transfer window not to make a new signing, yet have recorded the club's strongest-ever start to a Premier League season and will move above champions Manchester City into third if they beat Pep Guardiola's side at Wembley on Monday.
The early weeks of the season have been dogged by uncertainty over Spurs' move-in date for their new stadium built on the site of the old White Hart Lane ground, with the club announcing last week that home games will continue to be played at Wembley for the remainder of 2018.
"It felt like this was Tottenham's big opportunity this year, so I get his [Pochettino's] frustration," Redknapp told  Sky Sports .
"To be the only Premier League team not to sign a single player in the summer did not make any sense at all. No team is perfect, so why would Tottenham be any different?
"They have got to be careful because they are so lucky to have Pochettino and every club in the world would want him. He has kept it all going and got them on a good run in the Premier League when other managers might have thrown in the towel.
" Spurs don't want a situation where they have an unsettled, unhappy manager , because if he was to go, that would be an opportunity for a lot of the players to go as well."
Tottenham had originally been due to christen their new stadium against Liverpool on September 15, but delays to the project's completion have meant that the team will remain at the national stadium until at least the start of 2019.
A date for the move is yet to be announced, despite Pochettino claiming in September that he was confident Spurs would be in their new ground by Christmas.
"There is a lot of negativity around the club now which is not needed," said Redknapp. "This should be the most exciting time in Tottenham's history with the new stadium, but the delay is embarrassing as much as anything."