A-League
'It holds everything back' - Toivonen's tip on how to sell the A-League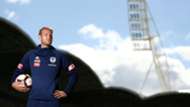 From playing on a disastrous cricket pitch to an end-of-season dead rubber match, Ola Toivonen's patience has been tested in his first A-League season with Melbourne Victory.  
The Swedish attacker, who spent his entire career in Europe before moving to Australia this season, concedes the competition he's found himself in could use some work. 
Whether it's small crowds or poor pitches, Toivonen is adamant the A-League must be made to look more attractive if it's going to be able to sell itself to fans and potential players. 
"The biggest change from Europe is that sometimes there's a lot of people in the stands, sometimes there is nobody," Toivonen said. 
"Sometimes you play on a cricket ground, sometimes you play on a pitch where there has been a rugby game before and the pitch looks like a disaster. That's something the league needs to look into.
"I think it holds everything back. You can't sell a sport unless the environment is nice to look at as well.
"The more you can sell the league to people, the better players you can attract."
After scoring the decisive goal in a 1-0 win over Western Sydney Wanderers last week that had no impact on Victory's standing, Toivonen hinted motivation may have been hard to come by with his side's spot in the top six locked up weeks ago. 
"It's weird, it's weird. You're playing a lot of games during the season and to be honest, they don't really mean a lot," Toivonen told Fox Sports post-match. 
With 13 goals from 20 appearances, any lack of motivation hasn't been holding the Swede back however, who believes there will always be room for personal improvement. 
"You can never have a perfect season, there's always room for improvement," he said. 
"Only for me there's been a little too much injury, one at the beginning, one in the middle, so I have missed around eight games. It's quite a lot in this competition where you don't have a lot of games.
"But when I have been playing I think I have been playing decently."