PSL
Tinkler: Big Gauteng clubs are under pressure not Cape Town City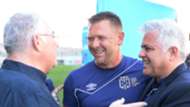 Cape Town City coach Eric Tinkler says they are hurting following their 1-0 defeat to Maritzburg United through Kurt Lentjies' stunning late free-kick.
"The boys are hurting. I don't think it's a case of not wanting to perform. For whatever reason it just didn't happen," Tinkler told IOL.
The defeat saw the Citizens miss a chance to regain top spot with four games remaining. 
"What pressure? You guys (media) invent that pressure," Tinkler stated.
"The pressure is on Sundowns, Wits, SuperSport, Chiefs and Pirates. We've done exceptionally well and I'm proud of the team and what we've achieved, but (against Maritzburg) we let ourselves down," he said.
"Sundowns have a game in hand so do Wits. Someone there have to drop points, or both of them. Wits have a few difficult games, but I still think Sundowns are favourites right now, because their run-in are games you would expect them to win," Tinkler concluded.
The Citizens, who are scheduled to host Free State Stars on Friday, are placed third on the league table. They are two points behind log leaders Wits, who have five games left.