Liga MX
Tigres summer signing Rafael Carioca comes up big in victory over Rayados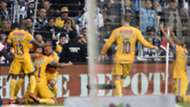 MONTERREY, Mexico — Tigres' splashiest signing of the summer was Enner Valencia. The star forward returned to Mexico from the Premier League and turned heads in Europe and South America.
Far less eye-catching were the rumors and subsquent signing of defensive midfielder Rafael Carioca. The Brazilian played more than 100 matches with Spartak before returning home to sign with Atletico Minerio, yet few paid much mind to his addition to the Tigres roster this summer. That may have changed Sunday, when the 28-year-old was one of the best players on the pitch in a 2-1 victory for Tigres that locked up a 3-2 aggregate win over rival Monterrey in the Liga MX final.
That's not to say the addition of the Ecuadorian was not important, and he played a role in Tigres' title win, scoring in the first leg of a 3-2 aggregate victory. Even after being benched by Tigres manager Tuca Ferretti, Valencia ended up playing in 21 league matches compared to Rafael Carioca's 17. Did Tigres really need another forward, though? This is a club that already employs Andre-Pierre Gignac, Eduaro Vargas, Javier Aquino, Jurgen Damm and Ismael Sosa in attack.
The piece Tigres needed to replace this summer was Guido Pizarro. The defensive midfielder decamped for Sevilla. While fringe Mexico internationals Jesus Duenas and Luis "Chaka" Rodriguez or former U.S. international Jose Torres can play in the middle, none are up to the level the Argentine showed in Tigres' run to the 2016 Apertura title. The Brazilian may not be there either, such is the standard that Pizarro set. But when he was needed most in Sunday's decider, he came up big.
Not only did Rafael Carioca break up attacks (he won seven of his 11 duels), he also was called upon to start attacks far more often than usual in Tigres' possession-based system. That also led to his first assist of the tournament as he served up a ball on a short corner to Francisco Meza. The Colombian came into the box unmarked and was able to head in what would turn out to be the winning goal without much difficulty.
#NoTeLoPierdas
G⚽⚽⚽L de Francisco Meza@Rayados (2) 1-2 (3) @TigresOficial 
VUELTA #GranFinalRegia 🤠 #Apertura2017 #LIGABancomerMX
⚽ #SienteTuLiga ⚽ #AbrazadosPorElFutbol pic.twitter.com/MKGcDt6uNj

— LIGA Bancomer MX (@LIGABancomerMX) December 11, 2017
Rafael Carioca said plenty of his countryman were cheering him on back home in Sunday's final and that the reputation of Tigres made it easier for him to leave his home country for Liga MX.
"Everybody speaks well of Tigres in Brazil. They say it's the best team in Mexico. I think we've been in four finals in the last seven years. It's beautiful football, and everybody knows that," he said after the match. "I have to say that I'm very thankful for how everyone has treated me here, Tuca, the other players, the fans, everybody."
The fans will be thankful for him as well. Monterrey came into the series with Tigres boasting not only the league's most difficult defense to score against but also the most potent attack. After a second-minute goal from Dorlan Pabon put Tigres on the back foot, things could've unraveled.
Rafael Carioca was one of a few calming influences on the team, though. He helped Tigres control possession in the first half and fall into their typical game plan rather than panic at falling behind early in a stadium where Monterrey hadn't lost all season.
"It was a little difficult. We knew they had a good team. They took the lead but we kept playing well. We hadn't played well the whole Liguilla but we all played for each other and that's how we did it," he said.
Felicitaciones @TigresOficial!!!
Se merecen esto y mucho más!!
Disfruten!! 🐯 pic.twitter.com/TEhZd3SMke

— Guido Pizarro (@guido19pizarro) December 11, 2017
It was a tough job for the Brazilian to come in and fill the sizable hole left by Pizarro. Not only was the Argentine international a do-it-all player in the middle of the field for Tigres, he also formed a special bond with the club's passionate fans. 
"There's always more. Soccer players can't be happy with winning a title. For me, the important thing is to keep playing, to win more titles and make my mark at Tigres," he said.
Despite more questions coming in, it was his final answer. Rafael Carioca was called over by his teammates to take a victory lap, and walked away once more ready to do what was needed for his team.