Australia
'This love is true and indescribable' - Milos Degenek's unbelievable Red Star Belgrade fairytale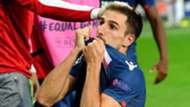 Rarely does football deliver a true fairytale, Milos Degenek's heroics for Red Star Belgrade in a Champions League qualifier however rounded out a story Disney would struggle to script any better.
The Socceroos defender was born in Croatia but after the breakout of the Balkans war was forced to flee, on a tractor no less, to Belgrade as an 18-month-old.
Just over three years later Degenek would then witness his adopted home go up in flames as Belgrade was bombed by NATO.
"I heard the grenades, five or six kilometers away everything went up, everything burned - it cannot get any worse," Degenek told Merkur in 2015.
Emigrating to Australia at the turn of the millennium, Degenek may have departed Belgrade but his love for the city and Red Star football club would never leave him.
— damirkulas (@DamirKulas) August 29, 2018
Determined to become a professional footballer, he would wake up at 6.30 every morning to train on a local football pitch before school and was ultimately rewarded with a contract at VfB Stuttgart as an 18-year-old.
As with any good fairytale however, the move wouldn't be the quick success Degenek was hoping for. 
Though playing regularly for their U19's side, an injury saw him frozen out of Stuttgart's second side as he made just nine appearances across three seasons.
"I was like forgotten. No one was interested in me anymore," Degenek said.
Like a trademark Disney villain, his coach at the time would even tell him that no matter what he did on the training pitch, he wouldn't play for the club again.
Taking the brutal hint, Degenek would move on to 1860 München where he quickly showed what Stuttgart had missed out on.
Earning his Socceroos debut in 2016, he'd then move to Japanese side Yokohama F.Marinos in 2017 and really impress.
Included in Australia's World Cup squad, the 24-year-old would then seal a long-held dream to return to Belgrade after securing a transfer to Red Star, also known as Crvena Zvezda.
Nearly two decades after fleeing a city left in flames, Degenek has now set the city alight once again, but this time in the unheralded joy of Champions League qualification.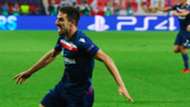 In a final qualifying match against Red Bull Salzburg, the right-back found his side 2-0 down with less than half an hour to play and took it upon himself to turn it all around.
First in the 65th minute when he found himself deep in Salzburg's final third, put in a crunching challenge to win the ball back and floated a pin-point cross to El Fardou Ben Nabouhane to prod home at the far post.
Then just a minute later, Degenek delivered a header Tim Cahill would have been proud of which drifted across the goal face and was ultimately awarded to Ben Nabouhane to ensure a 2-2 draw - enough to progress on away goals.
— Optus Sport (@OptusSport) August 29, 2018
But regardless of who got the decisive touch, it was the adopted Aussie that had returned to Red Star and played a massive part in sealing the side's first ever spot in the Champions League group stages.
Though European Cup winners in 1991, Belgrade has struggled to live up to those heights since and now have Degenek in large to thanks for restoring them to their former glory. 
"This love is true and indescribable, and the dream has accomplished us," Degenek said on Instagram.
When putting pen to paper with the club, Degenek also had a rather prophetic message.
"I want to realise my dream, the dream of the club, but above all the dream of our great army of fans and play in the Champions League," he said.
Incidentally they'll now do just that with Degenek turning this particular dream into an almost unbelievable reality. 
The fairytale could well be set for another chapter too with Belgrade drawn against PSG, Napoli and Liverpool in the group stages.