Javier Zanetti
The time when Inter legend Zanetti supported a bunch of radicals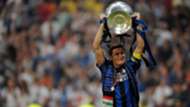 Many football fans know Javier Zanetti as one of the most legendary and classy players to ever grace the game of football. In fact, his association with Inter encapsulates what the concept of loyalty and longevity means.
His time with the Italian giants heralded one of the most successful eras for the club culminating in the Argentine becoming the first non -Italian to captain an Italian club to a treble, in 2010. He remains the only captain of an Italian side to achieve such a feat and it speaks volumes about his place in the history of the game.
While his association with Inter is well-known, not many know about his affiliations and sympathy for a group of impoverished people with a political cause in Mexico. The Zapatista Army of National Liberation was formed in 1983, with the intention of fighting for indigenous rights to greater autonomy, control over local resources, land reform and increased protection under the law.
With a distinct identity born from the cause of the indigenous Mayan population, the Zapatistas' political aims were inherently tied up with conditions in Chiapas. One of the most impoverished states in Mexico, poverty and inequality were rife, with Mayan people by and large the most deprived of all. Many in Chiapas felt that the central government had mismanaged the region, ruining much of its natural wealth while failing to improve living conditions for local people, while there were simmering social tensions between Chiapas' subsistence farmers and the indigenous population, too.
To understand better why Zanetti, a multi-millionaire footballer, wanted to help this bunch of ragtag radical individuals one only has to look at his background. Born to working-class parents of Italian origin, he grew up in the Dock Sud district of Buenos Aires, an area afflicted by entrenched poverty and, at times, endemic crime. While his experiences of hardship were definitively urban, it is possible that he saw in the Zapatistas a rural movement which was reacting to much the same standard of deprivation.
Although his financial situation would improve tremendously later on in his life, the man never forgot the hardships he faced in the early years of his life. In order to help combat the destitution in Argentina, Zanetti embarked on charitable projects such as setting set up the Fundación PUPI, a not-for-profit organisation aimed at providing aid to children living below the poverty line in and around Buenos Aires.
His dedication to social justice ostensibly made him sympathise with the Zapatista cause. But what was so admirable was the fact that the former Inter captain was willing to associate himself with a political movement without fear of risking his brand or alienating his fanbase. This was a step most modern footballers would not dare take.
In 2004, at a time when the Zapatistas were at perhaps their most active in terms of their media activities, their budding friendship with Zanetti went public. He had convinced the powers that be at Inter Milan to donate €5,000 in changing room fines to Zapatista communities in Chiapas, as well as an ambulance, football gear and a Nerazzurri shirt bearing his iconic No. 4 on the back.
Along with financial support, there was a heart to heart exchange between Zanetti and the Zapatistas which was widely reported in the European press. In a note which accompanied the aid sent to the rebels, he wrote: "We believe in a better world, an unglobalised world, enriched by the cultural differences and customs of all the people. This is why we want to support you in this struggle to maintain your roots and fight for your ideals."
For Zanetti this wasn't merely a token undertaking but he proved he had a full comprehension of what was going with the Zapatistas. Such was the closeness between the two parties that a match was nearly organised between the two sides though it never materialised due to political and safety reasons.
Though Zanetti was unable to convince Inter to organise a match against the Zapatistas, the money that he elicited from the club still benefitted communities in Chiapas, and left a legacy of mutual goodwill between the rebels and their somewhat unlikely patrons. In that alone, he did more for the impoverished in Latin America than many other footballers who grew up in similar circumstances.
In today's glamourous world of football where it is fashionable to follow in the footsteps and create a self-brand like David Beckham, Zanetti's story stands out for being a unique brand that definitely needs to be in fashion more often.