Tottenham Hotspur v Crystal Palace
The Son continues to shine - Spurs' impact man proving crucial to title bid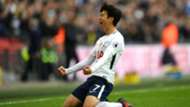 Mauricio Pochettino had warned them.
Not even 48 hours had passed since Tottenham Hotspur had ripped apart Real Madrid, but already the Spurs boss was looking ahead, his mind on the next challenge.
"It will be tough," Pochettino said of the looming clash with Crystal Palace. "It is always difficult to play after a game on Wednesday and also because the result was massive, but we must be ready."
Except, come Sunday, they weren't. 
Sluggish, unable to generate the energy from their dazzling display against the defending European champions at the same venue, Tottenham were struggling against lowly Palace. 
Roy Hodgson's men pushed and probed, over and over. Tottenham's back-up goalkeeper Paulo Gazzaniga was forced into a series of saves and Wilfried Zaha had pulled a shot wide when presented with an open net. Palace were coming, until Heung-Min Son intervened.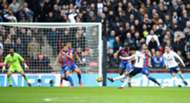 If such a sequence perfectly fitted the classic Hodgson GIF that periodically floods Twitter, Son's game-defining moment perfectly demonstrated his importance to this Spurs team and their bid for titles. 
From a partial clearance, the South Korean needed just one touch to shift the ball to his left foot before lashing a curling shot into the bottom corner from the edge of the box, propelling him to a score of 89/100 on the Goal Pressure Index, presented by Sure and powered by Opta data. 
It was all Spurs needed, but oh how they needed it. 
Despite their hammering of Madrid, Tottenham were coming off a league defeat to Manchester United and couldn't afford more dropped points at Wembley. Moreover, their title rivals were playing later in the day and it was imperative to keep pace.
Son is the reason they did. 
Remarkably, the forward's strike was the 13th Premier League goal in which he's been directly involved this calendar year. That tally has him one ahead of Eden Hazard and Mesut Ozil in that period, despite his limited playing time.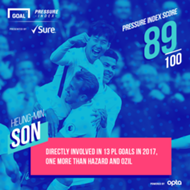 Such a haul is indicative of a player whose impact is so often both immediate and wide-reaching. In a supporting role to the team's major star in Harry Kane, Son is able to both score and create with equal effectiveness.
More importantly, though, he gives depth and variety to Pochettino. 
Able to play either out wide, up front in a pair or behind the striker as a number 10, Son is key to not only Spurs' ability to break games open, but also their capacity to adapt their approach to fit the opponent. 
Against Liverpool last month, the 25-year-old pressed the life out of Jurgen Klopp's defence as part of a front two in a 3-5-2, his influence profound in a first-half assault. 
Up against Palace, though, he was charged with filling the void left by the injured Dele Alli in behind Kane. 
Again he made the difference. 
Again he proved his importance, and did so just as the pressure was ramping up. 
The Goal Pressure Index is presented by Sure, Official Partner of Chelsea FC, Everton FC and Southampton FC. Join the conversation on Twitter @Sure.