James Ward-Prowse
The new Beckham? Ward-Prowse can be England's next set-piece star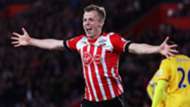 ---
COMMENT
---
When looking back on David Beckham's career, there is one pose that tends to come to mind. The ex-Manchester United star stepping up to strike a set-piece became the image that encapsulated English football for a whole generation.
Who Man Utd should sell this summer
That is perhaps why is was so alarming for many supporters at Euro 2016 when Harry Kane was selected as England's set-piece specialist in France, with the Tottenham striker routinely failing to cause opposition defences any problems whatsoever with his own take on Cristiano Ronaldo's own pretty flawed technique.
While very few people agreed with the reasoning behind Kane taking on dead-ball duties, there was also an agreement that there were very few options aside from the Tottenham forward. Over 15 years since Beckham's stoppage-time free-kick against Greece to secure qualification for the 2002 World Cup, the Three Lions now have a generation of players who seem to have neglected the opportunity to follow in Beckham's footsteps.
Since Beckham left the Premier League in 2003, English players have scored 128 direct free-kicks. That equates to fewer than 10 per season and just 30 per cent of all the free-kicks scored in the English top-flight in that time. Of the top 10 English scorers since Beckham's departure, only two – Leighton Baines and Ashley Young – would technically still be available to play international football.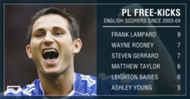 For whatever reason, England seems to have lost a generation of set-piece specialists despite Beckham being many of the current crop's footballing idol growing up. The rise of a more free-flowing continental style within Premier League is likely to have dictated such a drop, with old English values of strong defence, counter-attacking and dangerous dead-balls is largely a thing of the past.
Gareth Southgate's current squad is packed with tricky wingers and skilful No.10s, with the England boss even able to leave Theo Walcott out of his latest roster despite the Arsenal man enjoying his best ever season in a Gunners shirt. But none of those players seem to have acquired the skills needed to thrive from dead ball situations – a staple of English football throughout the decades.
Who Arsenal should sell this summer
That's where James Ward-Prowse comes in.
"I saw that and it is nice to be compared to someone like that [Beckham]. He is a boyhood hero of mine," the Southampton midfielder told the Daily Mirror in 2013 having been compared to the ex-Real Madrid star. "He is someone I have modelled my attributes on - especially his free-kick taking and his set-piece delivery."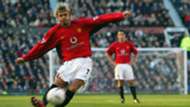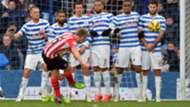 A staple of Southgate's Under-21 side over the past few seasons, the 22-year-old earned his first senior call-up for the recent matches against Germany and Lithuania. He may not have made it onto the pitch, but his selection hints that Southgate is starting to think about how he can utilise set-pieces.
Who Chelsea should sell this summer
Ward-Prowse is one of very few English dead ball specialists currently plying their trade in the Premier League. His technique harks back to the days of Beckham, and improved performances away from just free-kicks and corners have seen him become a regular for Claude Puel's side during the second half of the campaign.
He may have only netted one free-kick from 19 attempts in the Premier League in his short career so far, but for anyone who has seen him at various international youth tournaments, it is clear he possesses a Beckham-esque ability when it comes to striking a dead ball towards goal. His six assists from such situations suggest pinpoint accuracy, and there is no reason to suggest his goal statistics will not improve.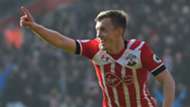 He might not play quite the same role as his idol Beckham in terms of providing crosses from wide areas in open play, but Ward-Prowse certainly offers something different in terms of bringing about both goals and assists from set-pieces. The task now for Southgate is to find a way to bring him into the side without disrupting some of his other star names.
Who Liverpool should sell this summer
Ward-Prowse certainly has the footballing ability to become an England star of the future, and if he can perform against Manchester City on Saturday in front of a live television audience then his hopes of becoming an England staple for the next decade will have taken another step closer. Never quite able to hold down a regular berth at club level, he now looks set to become a key component for the Saints moving forward.
It will then be down to Southgate to gel his 'New Beckham' into this 'New England' that he is currently being created. The Three Lions could yet have another hero on their hands, and very few have realised it.