Liverpool
The Liverpool Motorway: The old-school route from the Academy to the first team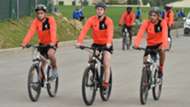 ---
SPECIAL REPORT
---
Last year, Rhian Brewster sparkled for England's Under-17s in the Croatia Cup, where a hat-trick against the host nation was followed by him twice piercing Germany's rearguard.
Upon returning to Liverpool in October, though, a different kind of shine was required from the promising striker. He pulled on a pair of rubber gloves, then armed with a scrubbing brush in one hand and a disinfectant in the other, Brewster began polishing the toilets of a homeless shelter. 
Alexander-Arnold and Woodburn's journey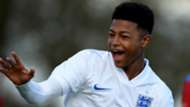 He was not in a club tracksuit and there were no cameras; this was not a photo opportunity. For the 16-year-old, who celebrates his birthday this Saturday, it was a regular commitment and dose of 'the real world' to cut through the hyperbolism surrounding his international exploits.
A month later, on a Tuesday night when Ben Woodburn felt like he was "jumping out of his own body" after becoming Liverpool's youngest-ever goalscorer, his phone wouldn't stop beeping. Amid a stream of giddy congratulation texts on his milestone, recorded in a 2-0 victory over Leeds United in the League Cup, came a sobering message: "I expect you at school tomorrow." 
Welcome to Liverpool's Academy, where developing well-grounded individuals is as much of a priority as producing elite footballers.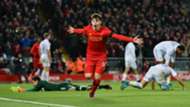 "We're always looking to create an environment where you don't dwell on what's happened, but are focused on what you have to do next," Alex Inglethorpe, director of the club's youth set-up, explains to Goal.
"We're in a society where there's an unhealthy culture of 'now' - everything is wanted too quickly or there is a sense that success is already achieved, despite it being an everyday process. 
50 Best Young Players in the World
"It's important for us to have some good old-fashioned values of being patient and being hungry. This is a really hard thing to do in Premier League football with young players and it will only get harder as they've got more influences than ever in agents, social media and things like that."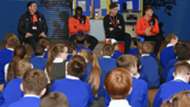 Phil Roscoe, head of education and welfare, is fundamental in identifying and implementing programmes that help ensure the kids at Kirkby are continuously learning and challenging themselves beyond the game.
There is a concerted effort to introduce the youngsters to different career opportunities, university courses, life experiences and workshops, all of which sit alongside their tactical education. Their school schedule is carefully co-ordinated with Rainhill High too, guaranteeing nothing is missed while the players fulfil their football responsibilities. 
"All through the management here, we understand the importance of developing players off the pitch too and take it very seriously," Inglethorpe explains.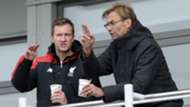 "I do think that what we are bringing into the first-team environment are good boys that are dedicated, obsessive, who work hard. They're going to make mistakes, that is part of being young, but they have the desire to learn, to try again and to never be satisfied.
"We are fully aware that not everyone gets through, it's not possible, so you spend your time with a number of boys who will not play for Liverpool. 
"You have to make sure that you put programmes in place so that when they leave the club, they're able to survive at another club or as a student or out in the working world. 
"In Phil, we've got someone who is pioneering in what he does to help the boys remain humble and he enlightens them on so much."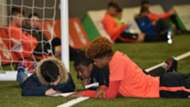 There is the continual work with the homeless and local schools as well as a partnership with the Royal Air Force, while Kick It Out and the FA regularly visit the facility to spread awareness on a variety of issues. Lessons with the police and fire brigade are pencilled in, as are trips to universities - last year it was Warwick, and in a few months, the Academy will explore the facilities of Loughborough. 
'Liverpool have become like Man Utd, and not in a good way!'
Sprinkled in-between are seminars with Sporting Chance, the brainchild of former Arsenal and England captain Tony Adams, which alerts youngsters to the temptations and dangers they're likely to encounter as professionals.
In November, the Under-14s and 15s made time during an international tournament in Poland to lay flowers at Auschwitz after learning about the Holocaust through a powerful, personal account from survivor Renee Salt.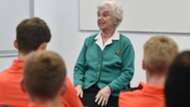 It is indisputable that Liverpool have quite a different, holistic approach to development. 
And given the Reds are glued by a 'one-club' mentality, it is unsurprising that the principles practiced at Kirkby are carried through at Melwood.
"You look for character in young players and you look for character in senior players," says first-team development coach Pepijn Lijnders. "Looking for the right attitude doesn't change, it is always important. You have to behave the right way, you have to believe in the right things. 
"You want the player who is always searching for the next step, who loves the challenges, who doesn't run from the struggle, but enjoys it because he wants to overcome adversity. 
"This is not just any shirt you are wearing, you are representing five Champions Leagues! So you need obviously to have the talent, but also passion, ambition and the understanding of what this club means."
Donnarumma crowned NxGn winner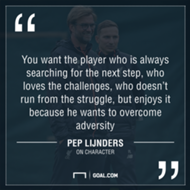 Lijnders, who runs the Talent Group, in which the best of the Academy aged between 14 and 21 train at the West Derby complex once a week with Jurgen Klopp intently watching on, is the bridge between both worlds. 
One Academy staff member has remarked that the route from the youth structures to the senior squad is "more like a motorway now than a pathway. There's so many more been given the chance to speed up their growth by working with the likes of Jordan Henderson and Adam Lallana."
Inglethorpe and Lijnders are unequivocal about why this is: Klopp's determination to build and bring through youth players.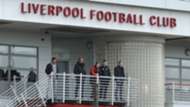 "We're passionate about developing our own," the former states. "And we've got a manager that is more than brave enough to support and facilitate that development. It sends out a positive, encouraging message to everybody.  Your Academy can only be as strong as the manager's belief in it and we've got an incredible one, who doesn't just talk a good game on the importance of youth, he actions it and at times you think 'wow!'
"Like against Burnley at Anfield [on March 12]. In a game the club have to win, on 60 minutes at 1-1, he trusts Ben to come on and help make a difference.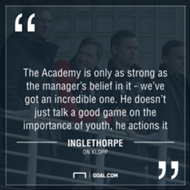 "He lives youth development and the owners back this completely, so it would be very unfair to say this is an Academy thing, this vision is a Liverpool one."
Lijnders adds: "The moment a kid comes into contact with Jurgen and sees that he really cares and values youth, there is no replacement for that. And once a player is with us, they become part of the family - they get nutritional advice from Mona Nemmer, they sit with our team manager Ray Haughan and learn how we prepare to travel for away games, they have access to everyone and everything. 
"If your first-team manager and staff don't believe in development, it's sad because your Academy is a waste - you're just producing players for someone else. With our Talent Group, we're showing the kids we really want to work with them.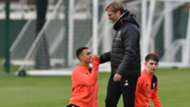 "They learn what is involved in being a professional by watching everything, for example, Millie [James Milner] does close up, they are not just picking up on how our specific style works at high intensity, but also things like leadership. A player who is 19 has to automatically take the role of Hendo with one who is 14; they need to help each other, to build a strong relationship and understanding which is so valuable."
As part of their commitment to creating a culture where the want of success and a tireless desire to achieve it is not superseded by anything, Liverpool have introduced an Academy wage cap.
"When you're growing as a player, the smell of the grass and the feel of the ball should always outweigh the want for fame, it should always outweigh the wages you can get," insists Lijnders.
Teen stars who failed to fulfil potential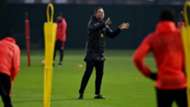 "As soon as that moment changes, there's the risk of going downhill."
Inglethorpe highlights Trent Alexander-Arnold and Woodburn as great models for those hoping to join them in the first team.
"We're very lucky because they give all the young Academy players hope. When an eight-year-old or 16-year-old are watching them train at Melwood and play for Liverpool, they're thinking 'that could be me.' But they're also watching their attitude, the way they carry themselves and how they give everything all the time.
"The biggest compliment I can pay to Ben and Trent is that it doesn't seem like too much has changed in their lives. 
"They still wear the same clothes, they still drive the same cars, they're still talking about the same things - they're very grounded young boys."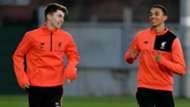 The pair provoke pride in Liverpool's devotion to constructing solid, sustainable structures for tomorrow as they target success today. 
Crucial to ensuring a golden legacy is to tighten the stitches between now and the future; the plan to house the first team and Academy at a redeveloped Kirkby fits into this high-definition picture. 
Donnarumma can be better than Buffon
"History and tradition shows us that this is a club where many young players came through made a huge difference and were big influences here," Lijnders stresses. 
"There's not too many teams in world football that share this at such a high level and it's something we have to reinforce. It's us, it's Liverpool."
 
Images courtesy of Liverpool FC