Ligue 1
The French Connection: Pablo Chavarria - The Argentine journeyman who found a home at Reims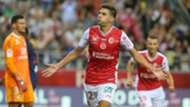 At 30 years old, success has not been quick to come to Reims striker Pablo Chavarria. 
Yet two weeks into the Ligue 1 season, the striker has helped lift his club to the top of the table with a perfect six points alongside Paris Saint-Germain.
Although the Champagne club stormed to the Ligue 2 title last season with a record number of points and wins, they were not expected to make such a strong start to life in the top-flight.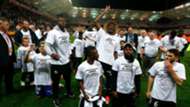 A trip to Nice and a home match against Lyon were fixtures that they were expected to lose – even a point would have constituted a strong return, and yet David Guion's side can look down on teams with more illustrious recent histories.
Two-time European Cup finalists, Reims are no longer among the very best in France, let alone Europe, yet their bustling Argentine frontman is hopeful that they can re-establish themselves as a top-flight force.
"It's an ambitious club with a great infrastructure," the Boca Juniors fan said. "The aim is to do better than we managed last year, individually but especially collectively."
Chavarria was one of the driving forces behind his side's record-breaking campaign, scoring 14 times and chipping in with a further nine assists.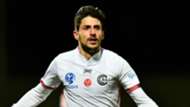 "This year, we have to build upon what we've done and I think we can stay up," he explained on the eve of the Lyon fixture.
Although born on the other side of the world, Chavarria is no stranger to France, having travelled to the country for a trial at Sochaux aged just 14. He was offered a deal but turned it down on the grounds that he did not speak the language and didn't understand anyone, preferring to return home to play for Belgrano de Cordoba, where he would remain for six years before moving back to Europe with Anderlecht.
Although he earned Champions League minutes with the Belgians, he was ultimately shunted out on loan to Eupen and Kortrijk before hopping across the French border to Lens. 
His physical style suited the French game and a move to Reims was completed in 2016. He has thrived since, unsettling defenders in his combative manner for five years now, albeit only once in the top flight.
"We're not scared of anyone," he said before the beginning of the season – and the manner in which he plays backs that statement up.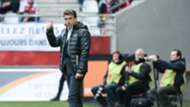 His goal against Lyon last weekend – the only strike of the match – typifies his strengths. With 32 minutes gone, he powered onto a cross from Ghislain Konan to send a downward header bouncing into the net. 
Grace may not be his strength, but he is an important player to the coach.
"He's someone I can rely on," David Guion said. "He's old and will look after my young offensive players. He's an example in terms of his industry and willingness to sacrifice himself. He's demanding of himself and puts everything on his side to succeed. He'll help us a lot this year."
Reims will not maintain their current position alongside PSG for the duration of the season, but if the table was decided on effort and commitment, they would be champions – and their star player would be their journeyman Argentine forward.