Mikkel Duelund
Meet Mikkel Duelund: The teenage talent who snubbed the Premier League to develop in Denmark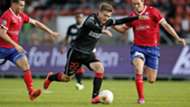 ---

EXCLUSIVE
---
It's an often overlooked fact that there's more than one way to the top in football. Even the top teenage talents can get swallowed up by the game's biggest clubs, never to appear at the peak of the game. 
Indeed, as the big players are increasingly monopolised by the most financially powerful sides, it stands to reason that it is harder for youngsters to break through at elite clubs. So, while joining Chelsea, Real Madrid or Barcelona might be the ultimate dream for a starry-eyed prodigy, it may not be the best long-term move.
One exciting prospect who has made a conscious decision to buck the trend is Mikkel Duelund, the Denmark Under-21 international dubbed the 'new Michael Laudrup'.
Ronaldo sculptor: Jesus didn't please everyone!
Despite idolising the likes of Steven Gerrard and Frank Lampard, he has previously shunned interest from the Premier League in favour of a prolonged stay with FC Midtjylland and, having reaped the rewards of game time, he is now eyeing his next step.
Underlining Duelund's success is the fact that he is one of only two 19-year-olds to be called into the Danish Under-21 side, which has qualified for this summer's European Championship after recording nine wins and one draw in their qualifying group. 
At club level, he has already faced the likes of Napoli and Manchester United in the Europa League and became the seventh youngest player to score 10 goals in Denmark's top flight, the Superliga, despite playing as a midfielder.
It was, however, while playing with Denmark's U20s against a Liverpool U21 side that he caught the eye of the Premier League giants, who reportedly made an approach for a player compared to compatriot Christian Eriksen. This has never been confirmed but Duelund freely admits to Goal that there has been interest from England.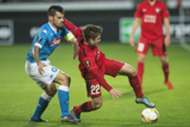 "The time just wasn't right for me," he explains in an exclusive interview. "I chose time on the pitch and my development over money.  
"It was definitely a difficult decision but, in the end, it was the right one. I've a lot of confidence in myself yet I know I'm not the finished article.
"And I honestly don't believe that I would have been able to walk into the first team of a big club in the Premier League two years ago. I simply wasn't ready as a player. 
"In the last two seasons, though, I have opened my goal account at a senior level and now I feel more equipped to move on to the next level.
"I can't comment on specific names of clubs, but whenever I have heard about the interest of a great club, I'm flattered."
'Arsenal the only team in London!'
Chelsea are an example of a club that have had great success at youth level but have thus far been unable to truly translate that into any regular performers in their senior side. In each of the last two seasons, they have lifted the UEFA Youth League, yet even their star players at that level have struggled to earn more than a handful of minutes for the first team.
"At the biggest clubs there is a long way from youth football to the first team," Duelund confirms. "I wanted to develop into a senior player before leaving FC Midtjylland because I did not want to join an academy or a youth squad but to be a part of the first team in my next club. It was the same reason that made me sign a new contract last summer. 
"I still have a lot to develop in my game, and I believe, that the best way of doing that is through playing at senior level.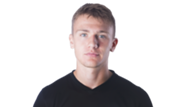 "It is out there on the pitch at the highest possible level that you develop yourself. One year ago, I was playing at the highest level in Denmark but my style was still too much like youth football. 
"I felt that the right move for me to keep on developing was with the best senior players in the Danish league - and not in a youth or reserve team squad. I felt that my academy days were over."
In doing this, Duelund has had his opportunity to test himself against some of the best sides in Europe.
RUMOURS: Chelsea to bid £70m for Lukaku
"I have been fortunate enough to have been a part of a record-breaking period of time in FC Midtjylland's history," he points out. "Winning the first Danish championship for our young club was amazing, and after that we reached the group stage of the Europa League for the first time. 
"Eliminating Southampton was a kind of international breakthrough for us. And from the group, we even qualified for the knockout phase. It was the proof that we can achieve great results - and we would have loved to repeat that against Manchester United.
"The club has a great academy and the managers here have never been afraid of giving the youngsters a chance in the first team. It is important that you feel that you actually do have a chance of taking the step to the next level. 
"The club is a young one – it was formed in 1999 - but has developed top players like Winston Reid of West Ham and the Denmark captain Simon Kjaer. 
"Pione Sisto was sold last summer and is now playing with Celta Vigo in La Liga - and now I wouldn't mind being the next one moving to new challenges."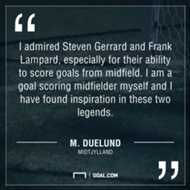 But while the trend has been for players to depart Midtylland to become stars, one man has moved the other way. Rafael van der Vaart, the former Real Madrid and Netherlands star, has now taken Duelund under his wing, and the Dane is doing his best to absorb all he can from a colleague who knows what it takes to reach the top.
"He is such an inspiration," Duelund admits. "I feel privileged to play with somebody like him who has done everything in his career, things that I can still only dream about.
"I study him at training and I can guarantee you that I am listening to every piece of advice from him and just trying to inhale his words. His advice can help me closer to achieving my dreams and ambitions."
OFFICIAL: Dahoud to join Dortmund
However, he is not the only player he admires and studies, admitting that many of his heroes are Premier League icons.
"I used to have posters of Wayne Rooney on my wall in my room as a boy back home with my parents - he was a football idol," he smiled.
"And I admired Steven Gerrard and Frank Lampard, especially for their ability to score goals from midfield. I am a goal-scoring midfielder myself and I have found inspiration in these two legends, studying how they ran into the box and their shooting. 
"Right now, I enjoy watching Philippe Coutinho play and, in my opinion, he is very close to being the best player in the Premier League - he is really amazing. 
"I think football every minute of the day and when I watch a match on television I always try to learn from the players."
For now, the Premier League remains an ambition, but it is one that is closer than ever before due to the youngster's patience. There is every chance more offers will arrive in the summer and if the right one comes along, the teenager will be ready to take the next big step in his career.