Kaizer Chiefs
The Big Interview Part 1: The two young men who imitate Robert Marawa and Steve Komphela on social media
South Africa Chief Editor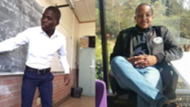 Two young men from the University of Johannesburg have taken Twitter by storm with their hilarious but on point videos on Steve Komphela's pre-match and-post-match interviews. 
Goal took time to interview Simangaliso Mdluli, who's no doubt a carbon copy of Komphela as well as his friend, Nyameko Radebe to get to know them better and understand the reasoning behind their prominent videos. 
Mdluli, who is doing his second year in Bachelor of Education, was born and bred in Vryheid, northern KwaZulu Natal, while Radebe is also second year BCom Accounting student from KwaMastela, Umzimkhulu. 
The young 'Komphela' spoke fondly of the Kaizer Chiefs mentor and his famous quotes, and confessed that he started following his interviews towards the end of 2017.
Goodnight 💤😴 fellas. @bhunganen1 pic.twitter.com/n9XzIWbXN4

— Simangaliso Mdluli (@SimangalisoMdl2) March 10, 2018
"To be honest, I only began noticing Komphela's quotes towards the end of last year. The interview that really drew my attention was the one he did with [Robert] Marawa where he was talking about Jesus (pre-match interview against Sundowns), and when I listened to him, I really became interested in listening to him," Mdluli told Goal. 
Ironically, Komphela is a teacher by profession and Mdluli is studying towards becoming a school teacher, but does the Vryheid-born man see himself on the football pitch just like his role model?  
"If it happens then I'd love it, but then again I won't say becoming a coach is my goal," said Mdluli. 
Meanwhile, Radebe spoke of his desire to one day get into the Television industry and follow in the footsteps of legendary TV presenter Robert Marawa.   
"I can say that presenting has always been my thing, because even at school [DRC Senior Secondary School], I was part of the debating team and got accolades for it. So, it's a wish for me to one day do what Marawa is doing, but I still don't know how to get into the industry," said Radebe. 
Here is another one 😂. #SteveKomphelaChallenge.@SimangalisoMdl2 pic.twitter.com/dzCZ5Rk5FX

— FARPost (@FarPostSA) March 8, 2018
While Mdluli and Radebe have shown so much commitment in keeping their followers entertained on social media, they insist that this was never planned.
The duo said they one day decided to take part in the #SteveKomphelaChallenge; a hashtag which saw many football fans try to imitate the Amakhosi coach on Twitter. 
Much to their surprise, their videos drew a lot of attention and people fell in love with them. 
Mdluli and Radebe usually record these videos in their spare time when they're both bored in their little room at the University of Johannesburg, APK Campus, and share them with their followers on Twitter. 
Their recent video has close to 100 000 views, and there's no doubt that they're slowly becoming a force to be reckoned with on social media.
Given how popular their videos are on Twitter, expect to see both Mdluli and Radebe on your TV screens in the near future. 
😂😂😂 Watch and Retweet you won't regret.#stevekomphelachallenge pic.twitter.com/tnaP6WyZfI

— Simangaliso Mdluli (@SimangalisoMdl2) March 7, 2018