AFF Championship
Sanrawat defends Rajevac's ways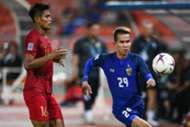 The Thai fans is a tough crowd. Despite their team finishing top of Group B without a single defeat and scoring 15 goals in the process, they are still unhappy over the performance of the team in the 2018 AFF Suzuki Cup.
Serbian Milovan Rajevac who took the baton from Thai legend Kiatisuk Senamuang has come under heavy fire for what is perceived as a more defensively structured approach to the game and fans of The War Elephants have voiced their strong opinions on the matter.
But the perception is completely different from within the camp. Attacking midfielder Sanrawat Dechmitr has leaped to the defence of the 64-year-old former head coach of Algeria and feels that the team is in a much better shape than before.
"When all the sticks comes to you from everywhere, it makes you focusing more on football. Now I'll keep working hard, will keep proving my worth. If people still negative with us despite the result, then that's fine.
"How many goals we got, how much we win, just doesn't matter when it comes to prejudice. We just can't change what everyone think. But for me and my teammates, we're proud with these numbers.
"For those who criticizing our style of play, to be honest, me as an attacking type, had that feeling as well. 'Why do I have to defend?' sort of. But if you know the coach, you'll know what it's about, what he came to improve us as a team. So wh should accept the plan.
"We may not have beautiful attacking play, but I can feel we're much more operate as team. When the opponent attacks, and we don't concede, that makes more chance to score for us. It's the whole new level of football to me.
"Defend as team and you will attack easier, can go with counter attack, and end the play with score. Most of all I believe we can doing these better and better," said Sanrawat in an interview published by the FA of Thailand.
FAT and Rajevac came into the this tournament deciding to leave our the fulcrum of the squad, with an eye on the 2019 Asian Cup that will start on early January. Chanatip Songkrasin, Theerathon Bunmathan and Teerasil Dangda are just some of the big names left out of the Thailand team that will face Malaysia in the semi-final.
In their absence, Adisak Kraisorn has shouldered most of the goalscoring burden and the Muangthong United striker has banged in eight goals thus far. Following behind him is precocious talent Supachai Jaided with the Buriram United player snatching three goals for himself.
As defending champions of the Suzuki Cup, this Thailand side despite their different style will still go into the clash against Malaysia very much as the favourites and will look to emulate their predecessors, who have made the final in eight of the 11 AFF Championship editions thus far.
Follow Goal Malaysia on Instagram