AFF Championship
TCH names final 23 for AFF, leaves out star midfielder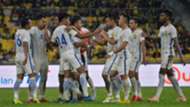 Less than 12 hours after the completion of the final preparation match ahead of the start of the 2018 AFF Suzuki Cup, Cheng Hoe has decided that Azrif Nasrulhaq, Azzizan Nordin and more surprisingly Nor Azam Azih will not be part of the squad of 23 for the tournament.
Two of the three started in the win over Maldives at Bukit Jalil National Stadium with Azzizan sitting in the stands because of injury. The Sabah midfielder has been struggling with his fitness since the last round of international matches and has been unable to shake it off.
Azrif who may have usurped S. Kunanlan as the first choice right back for Johor Darul Ta'zim heading towards the backend of the 2018 season but found himself behind the pecking order in the national set-up despite the absence of injured Matthew Davies.
But the one name that perhaps raises the biggest is undoubtedly Azam. The 23-year-old showed his wide array of passing abilities after featuring in the first half against Maldives which saw Malaysia take a 1-0 lead into half time.
Controlling the game in deeper central midfield, Azam translated the kind of performance that many have seen him put in for the Under-23 squad in past tournaments. There's genuine concern from the coaching staff on his general fitness as Azam needs constant treatment for a back problem.
However, at least from outside looking in, he looks mobile and was able to play in his usual demeanour. If Akhyar Rashid is included in the squad despite battling his own fitness problem because he's a potential game changer, then the same could have been afforded to Azam.
Perhaps from Cheng Hoe's point of view, there's only so much risk that he could take into the tournament and Akhyar alone has already filled up that quota. Yet, there's no one with the technical qualities like Azam in the squad and with only four viable candidates to play central midfield - it looks like creativity will be sought elsewhere.
Malaysia will depart for Phnom Penh on Tuesday and kicks off their AFF campaign with an away match against Cambodia that will be followed by a home game against a V. Sundramoorthy-led Laos side at home in Kuala Lumpur on 12 November.
GK: Farizal Marlias, Hafizul Hakim, Khairul Fahmi Che Mat
DF: Aidil Zafuan, Adam Nor Azlin, Shahrul Saad, Amirul Azhan, Nazirul Naim, Syazwan Andik, Irfan Zakaria
MF: Syamer Kutty Abba, Kenny Pallraj, Akram Mahinan, Syahmi Safari
FW: Safawi Rasid, Hazwan Bakri, Syafiq Ahmad, Syazwan Zainon, Akhyar Rashid, Zaquan Adha, Mohamadou Sumareh, Norshahrul Idlan Talaha, Shahrel Fikri
Follow Goal Malaysia on Instagram