Ligue 1
Taking on all comers - Meet Everton target and Ligue 1 Rising Star Martin Terrier
Martin Terrier scored perhaps the goal of the weekend in France. Gathering possession inside his own half, with apparently little on, the Strasbourg forward set about charging down the field, punching a huge hole in the Bordeaux defence before calmly beating goalkeeper Benoit Costil.
It was a goal the great Dennis Bergkamp would have been proud of, with the Dutchman one of the great heroes of the mobile attacker since he watched the Arsenal star score his famous effort against Newcastle.
This was Racing's final strike of a 3-0 victory away from home and proved to be the culmination of a momentous week for Thierry Laurey's side, who six days earlier had become the first team to beat Paris Saint-Germain this season. 
Only six years ago, they were playing in the French fifth division after financial problems, yet they have lifted themselves rapidly to the heart of the Ligue 1 table, and the contribution of the 20-year-old France Under-21 attacker, who is at the club on loan from Lille, has been one of their most impressive facets.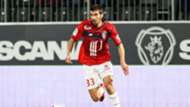 Terrier's statistics this season have been relatively modest – three league goals, including that spectacular solo effort at the weekend, plus a couple of assists – yet the overall contribution he has made to the team has been formidable. 
Indeed, since he pinned down a position as a regular starter following a goal off the bench against Dijon in September, Strasbourg have suffered only one defeat when he has played.
"There's been a radical change in his character since September," his father, Frederic, who played as a striker for Hazebrouck in France's third tier, told L'Equipe. "Before, he trusted himself but did not display it."
Now, the forward is more than happy to talk himself up. "I've got a lot of confidence in myself," admits Martin. "It can be dangerous, but my head's on my shoulders. I'm just aware of what I can do and that's important in this business."
At Lille, it was not always evident that he had the self-belief to make it to the top, with former boss Frederic Antonetti having admitted to being frustrated with the player.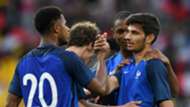 "His integration with the first team was done in small doses, I'm not sure he realised his potential," he told Canal+. "After a few sessions, I went to him and said: 'I don't know if you're good or bad – I can't see you'."
Despite this inauspicious start in the professional realm, Terrier has long been a player earmarked for success, having come through LOSC's youth ranks to impress towards the end of last season when he was given his first fleeting glimpses of top-flight action, including a goal against Montpellier for his boyhood club.
Everton were linked with a move for the attacker in the summer, and he has excelled on the international scene with France's youth side, leading the way in European Championship qualifying scoring, having tallied seven goals in only five outings. Within 31 minutes of arriving on the field as a substitute for his U21 debut, he had a hat-trick to his name against Kazakhstan.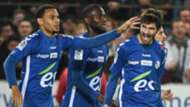 Now he has started to translate his confidence onto the field with Strasbourg, and his qualities have certainly not gone unnoticed by his team-mates.
"He's a player we're still discovering a little," captain Kader Mangane admitted to RMC. "His maturity is impressive. He works a lot in training. He gives depth to our game, he keeps the ball when he gets it. He's never tired. He's got a huge future if he continues like this."
After a quiet start to his professional career, there is a sense that Terrier is about to explode – and his stunning goal against Bordeaux may just be the spark that was required.