COSAFA Women's Cup
Tabitha and Temwa Chawinga top Malawi's provisional squad for 2019 Cosafa Women's Cup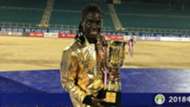 Malawi women's team head coach Abel Mkandawire has called up 24 players, including Tabitha and Temwa Chawinga for this month's Cosafa Women's Cup in South Africa.
Tabitha led Jiangsu Suning to two titles, scoring 19 goals in 11 games, earning her two top-scorer gongs in the 2019 Chinese season.
 
Temwa, meanwhile, scored 20 goals in 15 games this term for her Swedish Elitettan side Kvarnsveden.
The Chawinga sisters missed last year's edition in South Africa, where Malawi lost two games in three, including a 6-0 hammering by Banyana Banyana.
This time, coach Mkandawire will be counting on the duo's availability to make a huge difference in the seventh edition of the tournament, to be held in Port Elizabeth.
Malawi FA's technical director John Kaputa said the invited players will hit the camp and start an 18-day training on July 10.
The She-Flames are drawn against hosts and defending champions South Africa, Madagascar and debutants Comoros in Group A.
Malawi will open their campaign against Madagascar in their opening game on Saturday, July 31.

Malawi's Provisional Squad

GOALKEEPERS: Samir Amadu – DD Sunshine FC, Ruth Mhango – DD Sunshine FC, Mercy Sikelo – Ntopwa FC, Martha Banda – Blantyre Zero FC
DEFENDERS: Moreen Phiri – CY Sisters FC, Emily Jossam – Skippers FC, Fatsireni Kazembe – Skippers FC, Ruth Nyirongo – DD Sunshine FC, Chimwemwe Madise – DD Sunshine FC, Patricia Nyirenda – Ntopwa FC, Slyvia phiri – Ntopwa FC, Towera Vinkhumbo – Blantyre Zero FC, Salome Vinkhumbo – Blantyre Zero FC
 
MIDFIELDERS: Chikondi Gondwe – CY Sisters FC, Wezzie Mvula – DD Sunshine FC, Madina Nguluwe – DD Sunshine FC, Bridget Mkuzilire – Skippers FC, Fanny Mwale – DD Sunshine FC,
Zainabu Kapanda – Blantyre Zero FC, Chimwemwe Bonongwe – Ntopwa FC, Sabina Thom – DD Sunshine
 
STRIKERS: Asimenye Simwaka – Karonga F, Linda Kasenda – Skippers FC, Enelecio Mhango – DD Sunshine FC, Loveness Nyakamera – Skippers FC, Mary Chavinda – Blantyre Zero FC, Shirah Dimba – Blantyre Zero FC, Temwa Chawinga – Kvarnsvede, Tabitha Chawinga - Jiangsu Suning