WC Qualification Africa
Sserunkuma: Ghana are trickier without the Ayews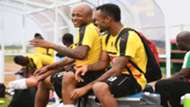 Uganda 's veteran striker Geoffrey Sserunkuma believes Ghana will be trickier to face without Jordan and Adre Ayew.
The English based brothers were left out by coach Kwesi Appiah on unknown grounds for the clash against the Cranes in Kampala on Saturday.
Serunkuma believes, however, that the duo's absence may prove futile for the Black Stars as they now do not know what to expect from Appiah's men.
"I heard Ghana made some big changes in their team because everyone is fighting for places," Sserunkuma was quoted by Daily Monitor.
"So that makes it a very tricky game for us because previously, we knew where, who played and how they played.
"You could tell that this is Asamoah Gyan, that is Andre Ayew and that is Jordan Ayew.
"But now they have brought new, young players who seem hungrier as you saw in their game in Congo and that calls for us to double our efforts to win on Saturday."
Gyan and Thomas Agyepong have also withdrawn from the Black Stars squad due to injuries.
Although Cranes coach Moses Basena shared Sserunkuma's sentiments, he was quick to point out that they are also looking to qualify for the World Cup in Russia next year.
"Ghana is a country of millions of people, if they miss a player or two, I don't think it can affect them. But if a good player is not playing for a good team, it could be a bonus for you," Basena said.
"However, in these teams' set-ups, there are always people on the lookout to be given a chance, and those players are always very dangerous.
"But ours is what we do in our game because we are thinking that the only way for us to qualify is to win our two games and then hope Egypt drop points."