Simba
Simba to axe 7 players in a mass clear-out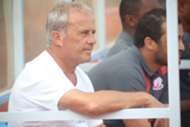 There could up to 7 Simba players leaving the club at the end of the season, Goal can exclusively reveal.
Mohamed Ibrahim 'MO' could lead the departures following his reportedly poor relationship with Simba's technical bench under Pierre Lechantre.
The attacking midfielder will look to play somewhere else next season and he isn't the only one who could be on his way out.
Juma Luizio, Laudit Mavugo are also expected to leave at the end of the season along with Mwinyi Kazimoto who will retire.
While there have been numerous reports over the future of those players, the reports also claim that Simba will consider the future of three players including fan favorite Mohamed Hussein "Tshabalala".
Other players are Bakari Mwambeleko and Paul Bukaba who joined the club prior to this season and have not been regular starters.
Simba have been linked with some players including Lipuli's Adam Salamba, Yanga's Obrey Chirwa, free-agent Mudathir Yahaya in attempt to improve their squad ahead of the possible CAF Champions League campaign next season.