Manchester United
Salute the champions! Not even Mourinho's United will catch record-breaking City now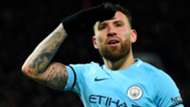 The long-awaited Manchester derby was a game littered with crucial errors, petty fouls and plenty of controversy but it ended the way most have in the Premier League, with Manchester City looking a class apart.
Jose Mourinho had set his United side up to be resolute but ultimately helped to hand Pep Guardiola's men the title with 22 games to spare.
The Portuguese has now lost nine matches in all competitions against the Catalan – no manager has beaten him more times – and, even more importantly, City now lead the table by 11 points. They appear utterly unstoppable.
Much of the talk in the build-up to Sunday's clash was centred around the distinct clash of styles demonstrated by the two clubs this season and City's 2-1 win at Old Trafford only served to exaggerate the chasm between the respective managers' philosophies.
The Blues spent the vast majority of the game playing their usual mesmeric football while United simply sat back and watched along with the rest of us. Indeed, the hosts had just 35 per cent possession - their lowest total in a home game since Opta began recording such data for the 2003-04 season.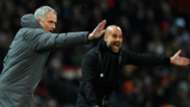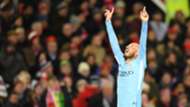 This could have been the day that United closed to within five points of their neighbours and gave the country real hope that there might be a title race worthy of the name in the final five months of the campaign.
However, after a deserved win over their nearest rivals, City look less likely than ever to go on the kind of losing run that would give anyone else a chance of catching them.
United were nothing but spectators in the first half in particular, allowing City to pass the ball around at will without so much as pressing. It looked like their defensive playbook had been swapped for that of the Cleveland Cavaliers for the most part, but there was no devastating fast-breaking tactics to go with their refusal to so much as employ a high press.
City got the goal their pressure had threatened when David Silva turned home after Romelu Lukaku had made a hash of clearing a right-wing corner.
But within five minutes United had upped their game and they levelled when Rashford mopped up Marcos Rojo's crossfield ball which had been missed by Nicolas Otamendi and not sufficiently dealt with by Fabian Delph.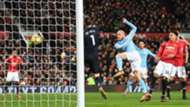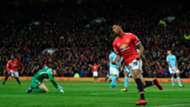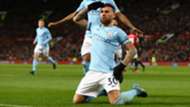 There was suddenly a beacon of light for Mourinho and United but the visitors were back ahead nine minutes into the second half when Lukaku scuffed a lazy attempted right-foot clearance straight into the back of Chris Smalling and Otamendi sent the loose ball beyond an isolated David de Gea with an acrobatic volley.
The Belgian striker has been castigated for his efforts in the penalty area of late but it was in his own box that he caused the greatest trouble on derby day.
United had more about them with the ball in the second half but then, they had to, given it was they who needed to win the game to keep the title race alive.
Lukaku was denied by an excellent save by Ederson and Juan Mata's follow-up was also kept out superbly by the Brazilian, while there were other moments when City could easily have handed their hosts a point, with Rashford almost pouncing on another Delph error.
However, City have now won 14 straight Premier League fixtures, matching the record of the invincible-era Arsenal, and there is little evidence available to suggest they will be anything other than champions come May.
They have also subjected Mourinho to both of his home defeats as Manchester United manager since arriving at Old Trafford in the summer of 2016.
This was top versus second, the real acid test of City's title-winning credentials but United couldn't halt their neighbours from sailing a huge step closer to the finishing post.
The gap is 11 points, but it might as well be 111. Only City can stop City now.