Malaysia Cup
Safawi takes JDT into closer to retaining Malaysia Cup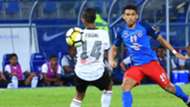 At Tan Sri Dato Hj Hassan Yunos Stadium, JDT started like a house on fire and stormed into an early lead in the match when Safawi Rasid latched onto Hazwan Bakri's pass to curled a shot beyond Helmi Eliza to put the home side into the lead before a full minute has even been played. The Pahang keeper completely misjudged the path of the ball as he put his team under early presure.
The early goal meant that JDT also took the lead in the tie since the first leg ended 1-1. Despite missing star striker Fernando Marquez, JDT were still dominating the chances created and Hazwan himself was unlucky not to add to the score when his shot found the crossbar rather than the back of the net. 
In the second half, JDT made progression to the semi-final stage safe and sound when Fernando Elizari put in a through ball for the impressive Safawi to nip in to score his and his team's second goal of the night. With the 3-1 aggregate score, JDT will now play Terengganu FC in the next stage of the Malaysia Cup.
Over in Kota Kinabalu, Sabah did the minimum required of them as they edged out Kelantan to be the third team to book them place in the last four. Trailing 1-2 from the first leg, Sabah found their all-important home goal from the penalty spot as Rodoljub Paunovic struck home the winner in the 31st minute.
The goal meant that the aggregate was tied at 2-2 but Sabah go through by virtue of them having the away goal scored in Kota Bahru last week. The Rhinos are in the semi-final of the Malaysia Cup for the first time since the 2006-07 season.
They will now await the winners from the final quarterfinal clash remaining which is PKNS versus Perak where both sides are still very much in the tie having drawn the first leg 0-0.
Follow Goal Malaysia on Instagram