South Africa
Safa head of referees Tenda Masikhwa lauds Victor Gomes but admits corruption is a global problem in football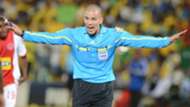 With South African referee Victor Gomes having received praise for his stance on corruption, the South African Football Association's (Safa) head of referees Tenda Masikhwa says they are happy that their referees have maintained their integrity.
Masikhwa was speaking to Goal as he touched on a number of issues relating to refereeing on the continent and their mission to develop more young officials.
"Safa invests a lot in the development of referees to be at the top of the list on the continent," said the official to Goal.
"We have a historical lineage we can trace regarding the production of match officials who were and are highly regarded in the world – the late Ian Mcleod, Ari Soldatos, and Achmat Salie (France 1998 Fifa World Cup); Jerome Damon and Enock Molefe (2006 and 2010 Fifa World Cups); and lately Zakhele Siwela (Russia Fifa World Cup)," he added.
"We are not surprised that Victor Gomes and his team always churn out good performances regularly whenever they are called upon to officiate (be it on the continent or here at home)," he responded.
"We are happy that people acknowledge the good work that Safa is carrying out," he said.
Masikhwa added that the country's football governing body said Gomes' professionalism shows the effectiveness that Safa devotes to training and developing match officials.
He also spoke of their recent partnership with OUTsurance; a sponsor which they recently acquired to help uplift the men tasked with ensuring that the rules of the beautiful game are adhered to.
"Our referees are fortunate in that Safa leadership takes refereeing seriously. This is evident as they have recently managed to secure the OUTsurance sponsorship, specifically for referees," continued Masikhwa.
"The sponsorship will help in solidifying the maintenance of high standards. Under no circumstances should Safa lose sight of the achievement and production of high quality referees," responded the Safa official.
"People who follow refereeing avidly will have seen that there is a group of young referees who are performing like seasoned match officials in the national panel. This is in line with Safa Vision 2022. We need more good referees to be developed from lower leagues, and we are encouraged and happy because we are on the right track," lauded the head of referees.
"In two to three years, people will see the fruits of the development of referees which is happening in different Safa regions throughout the country. Women are also coming on very strongly – watch the space," he asserted.
When asked about that standard of refereeing on the African continent where a number of scandals have been exposed in recent times, Masikhwa said corruption is a global disease in the game of football.
"Corruption or bribery is not only a continental problem, but a global one. During all Safa courses, Safa's integrity officer has sessions to educate our referees on how to behave, and on what one should do when one were to be faced with such compromising situations," he noted.
"We already have seen the positive effect of these integrity sessions as referees refuse, resist and report these unsavoury activities," concluded Masikhwa.
Back in April this year, Gomes turned down a bribe in Nigeria and reported the match fixing plot to the Confederation of African Football (Caf) when he was offered US$30 000 (R362 556) in cash.
The clash in question was a Caf Confederation Cup tie between Nigeria's Plateau United and Algeria's USM Alger which Plateau went on to win 2-1.
The no-nonsense referee's move led to Caf initiating a probe and the BBC has also exposed a number of corrupt officials in the game across the globe.