World Cup
Saeed Al-Owairan: My strike was similar to Maradona's Goal of the Century!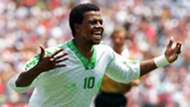 Retired Saudi Arabia international Saeed Al-Owairan does not think there is any need to put his legendary goal up to Diego Maradona's legendary 1986 strike, but believes the two efforts are similar.
Maradona capped one of the most memorable performances in the game's history for Argentina against England in the 1986 World Cup, following up his "Hand of God" with the "Goal of the Century", as he dribbled through multiple England defenders for what proved to be the decisive tally in his country's 2-1 win.
Eight years later, Al-Owairan would go on a similar trek, starting in his own half and weaving his way through Belgium's team, en route to delivering the winning goal in Saudi Arabia's 1-0 victory.
The win ensured Saudi Arabia's passage to the Round of 16, where they were eliminated 3-1 by Sweden.
And while Al-Owairan's goal was arguably the goal of that tournament, and by his own admission similar to Maradona's, the former Al-Shabab star doesn't want to say whose finish was better.
"Mine arrived from a farther distance," Al-Owairan joked in his explanation to Goal. "But well, Maradona was elected that year's best player of the World Cup.
"There is no need to put myself up to it. But it is certain that our goals are similar.
"We met several times, we talked together. He is a very great player. A huge player, in every sense of the word. And also a very respectable person."
More importantly for Al-Owairan was the fact he was able to play a big part in Saudi Arabia's performance at that World Cup – the country's first appearance in the tournament, and their deepest run.
"When I remember this tournament, I feel only pride because I was able to contribute to the excellent course of the Saudi team," he said. "We reached the stage of the round of 16. And I remember of course the goal that I put against Belgium and that was the most beautiful of this competition."
It's a goal that was selected as one of the greatest ever at the World Cup, one that he says people still mention to him, and something that Al-Owairan is proud of, though it took him a little time to realize just how special it was.
"It's rather that after the match has ended, that we have qualified and that I have seen all the reactions that there were, that I realized the importance of this goal," he said.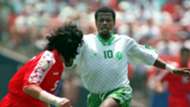 The only regret for Al-Owairan is that he was unable to help Saudi Arabia advance further. Sweden scored six minutes into the match, and would go up 2-0 before Al-Owairan assisted on an 85th minute goal by Fahad Al-Ghesheyan. But Sweden would add a third and move onto the quarter-final.
"We could have gone further than last 16," Al-Owairan said. "After the success against Belgium, we were a bit on a cloud. And with this qualification in the second round, the expectations of our supporters became greater.
"It is certain that against Sweden, where we lost 1-3, we should have done better."
Al-Owairan also confirmed that he had interest from teams in Brazil and Portugal after his performances with Saudi Arabia, but was unable to move.
"Yes, I received [interest]," he said. "From Brazil and Portugal. Unfortunately, I was not allowed to go there."
Al-Owairan would take a smaller part in the 1998 World Cup, which his nation was eliminated from in the group stage. The nation would qualify for the 2002 and 2006 tournaments, but missed out on 2010 and 2014.
Now back after their exile, the current Saudi Arabia team could use a bit of magic like the type Al-Owairan showed in his memorable strike. After losing 5-0 to tournament hosts Russia in the World Cup opener, the nation needs a drastic reversal of fortune against Uruguay and Egypt in order to make the knockout stages.
But Al-Owairan is not putting it past some of the current crop of players to deliver a special moment of their own in these next two games.
"It will be difficult," he admitted when asked if anyone could repeat his goal. "But why not ? I'll be happy, anyway. We have some good players, I can mention Mohammad Al-Sahlawi or Fahad Al-Muwallad."
Saudi Arabia return to the pitch Wednesday to face Luis Suarez and Uruguay, who narrowly edged Egypt in their tournament opener.