Hungary v Portugal
RonOLDo - How Cristiano is showing his age at Euro 2016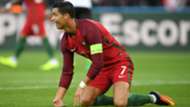 ---

COMMENT
---
All of Portugal is expecting to beat Hungary to qualify for the Euro 2016 knockout rounds tonight but, as much as that, the nation as a whole is willing Cristiano Ronaldo to score the goals to get them there. Rarely has the lack of form of one player commanded so much attention. It might well be a useful deflection for the other players in the squad who are yet to contribute to a win in France but there is no doubting the seriousness of the issue in the minds of Ronaldo's countrymen.
"After the first match the story was that Cristiano was all smiles," said coach Fernando Santos. "And now the story is that he is not smiling. I'm sure he will do what he does best, which is score. I'm sure he will do everything anxiety free." The Portugal captain has taken 22 shots so far at these European Championships but remains among those names with a big fat zero next to their goal tallies. Portugal's all-time top scorer, Real Madrid's all-time top scorer, in front of goal at least it appears that Ronaldo has indeed swapped bodies with that kid in Nike's pre-tournament advertisement.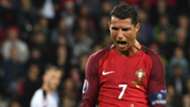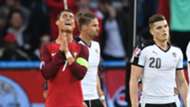 There is much to admire in Ronaldo's seemingly endless capacity for coping with knock-backs. He is undaunted by mis-kicking volleys, untroubled by headers ending up only in the clutches of a goalkeeper. Every free-kick he takes and blasts into the wall would only appear to redouble Ronaldo's utter certainty that the next one goes in. Even after a botched penalty kick he was there to nod home minutes later - admittedly from an offside position. No matter, there was to be no hiding.
When Portugal take on Hungary in Lyon on Wednesday, he won't shirk or shy away from his responsibility to put the ball in the net. However, do not expect to see CR7 sprinting down the line with the ball at his feet and cutting inside to score. Those days are gone, long gone. No matter if his starting position in an attack is central or out wide, this Cristiano is a striker to be serviced.
He's created two chances at these games and has had those 22 shots. Those numbers are lop-sided but wholly indicative how peripheral Ronaldo is to Portugal's general play but how domineering he still is when it comes to getting the ball in attacking positions. Six Portugal players top Ronaldo for total touches in their games so far - Raphael Guerreiro leads the way from Pepe, Joao Moutinho, Vieirinha, Andre Gomes and Ricardo Carvalho. Those players are all involved further back in the chance creation process. Indeed, the most striking aspect of seeing Ronaldo playing for Portugal is the extent to which he seems to rely on the work of others.
This is a good Portugal team - no longer reliant on Ronaldo's individual talent to drag them through - and we seem to have reached a critical crossover where Portugal's overall collective talent is more important now than Ronaldo's individual talent. A man of his ego, however, is unlikely to see things that way. A three-time Ballon d'Or winner he may be, but every Portuguese attacking action features Ronaldo holding his run at the defensive line, pointing to where he intends to make his run. It's not just all about him, it's all about service.
"We won't deviate from the usual pattern," said Santos ahead of the crucial showdown in Lyon. "Of course there are variations. The last match we played 4-3-3 rather than 4-4-2. Cristiano was a forward, not a fixed striker."
Ronaldo has not yet and probably never will acquire the game IQ to drop into midfield and try to run the game from there. It happens to a lot of players once they lose that slight bit of explosiveness in the final third. But Ronaldo won't go there because if he does then he cannot score.
He probably does not have the ability to run a game from there and, anyhow, he defines himself by his goals. He is desperate for them, never more so than at Euro 2016.
Portugal have played well in their two matches. They have probably been among the best teams in that regard. But they've only scored once and Ronaldo hasn't scored at all. It will be affecting him, that gnawing anxiety that he's not yet put one in. And even had Portugal won one or both of their matches without Ronaldo scoring, there's no guarantee that he would be happy.
Without goals, Cristiano is without purpose. It is the way he defines himself. He is a player utterly reliant on his team-mates' ability to put him and him alone in scoring positions. No one else gets a free kick and don't even think about taking a penalty from him.
Goal journalists are powered by the Samsung Galaxy S7 and Gear 360