Cristiano Ronaldo
'Ronaldo in same bracket as Di Stefano' - Ultimate Real Madrid praise from Arbeloa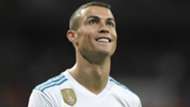 Cristiano Ronaldo's achievements at Real Madrid mean that he occupies "the same bracket as Alfredo Di Stefano", says Alvaro Arbeloa.
The Portuguese arrived at Santiago Bernabeu amid much fanfare in the summer of 2009, with a record-breaking transfer securing his services from Manchester United.
He was already a Ballon d'Or winner by that stage, but the 32-year-old has surpassed all expectations to become one of the finest performers of this or any other generation.
A remarkable goal haul in Madrid means that he now boasts several records which are likely to stand for many years, with a place among the Blancos legends already safely secured.
Former team-mate Arbeloa told Marca of his efforts: "Cristiano Ronaldo has scored before and at Real Madrid, at all levels, and that puts him in the same bracket as Di Stefano."
Madrid hero Di Stefano spent 11 years with the club between 1953 and 1964, winning eight La Liga titles and five European Cups.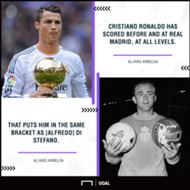 He also netted 308 goals in just 396 appearances, but that record has been shattered by Ronaldo.
His return currently stands at 417 efforts in 410 outings, with the promise of more to come while working under a contract until 2021.
Arbeloa spent seven productive years working alongside Ronaldo having returned to his roots in the same summer of 2009.
The World Cup-winning defender is not held in the same regard as his ex-colleague, but he was something of a cult hero during his time at the Bernabeu and admits it was a wrench to leave for West Ham in 2016.
"During my seven years at the club, I was always myself and I defended my teammates, manager and the club," said Arbeloa.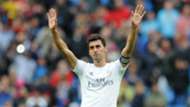 "I think the fans could see that. You have to know when to say goodbye because it's not easy and even less so at Real Madrid.
"You have to know when to decide but it's better when people love you so you give them a chance to miss you."
Arbeloa, who had previously taken in three-year stint with Liverpool, spent just one season with West Ham before hanging up his boots.
The 34-year-old added on that decision: "I always said I would play until I was 40 because I loved going to training.
"But there came a time when football did not give me what it had given me in the past, I looked to the future and I did not see that passion to continue training."