Transfers
Robert Ng'ambi confirms PSL and NFD interest in his services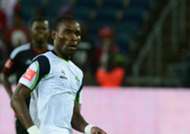 Former Platinum Stars midfielder Robert Ng'ambi has revealed to Goal that he has received offers from Premier Soccer League (PSL) and National First Division (NFD) clubs.
However, the Malawi international says he is still recovering from a muscle pull on his groin and can sign when he fully recovers from the injury.
"I went there (in Cyprus with Genclik Gucu TSK) and they gave me three weeks to train with them, but I couldn't go back to negotiate with the club president," Ng'ambi told Goal.
"I was supposed to go back there after their pre-season training in Turkey because the president was in Australia," he added.
"I played friendlies with them and they were impressed, but I got injured whilst playing and that made it difficult to sign when you are injured because there are medicals to conduct," he explained.
"I came back and I am in South Africa to recover. They (Genclik Gucu TSK) are still interested because they gave me a call to check on my progress," said the MTN8 Cup winner with Dikwena.
Moreover, the former Black Leopards star has also revealed that he could not honour a national team call-up for the Flames during the recent Fifa break because he is still recovering from the groin injury.
"I also missed the national team match because of the onjury, but that is part of football," he continued.
"Yes, I have received some interest from the NFD and the PSL, but I need to regain fitness and possibly get a deal," he revealed to Goal.
"I can say anything is possible at this stage because I am a free agent and can sign anytime because they only allow one foreigner in Cyprus and if I take time to recover, they might look elsewehere," he reacted.
"For now, it is recovery first and naming the PSL clubs will not be a good idea because there is nothing concrete as yet," he concluded.