Transfers
'Riyad was very determined to leave' - former Leicester assistant discusses Mahrez move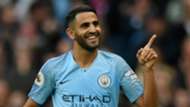 Riyad Mahrez was determined to leave Leicester in 2017, according to former assistant Pascal Plancque, who says the club was not prepared to let him go at the time.
The midfielder rose to prominence during Leicester's title-winning season, scoring 18 goals across all competitions in 2015-16 to help lead the club to glory alongside stars Jamie Vardy and N'Golo Kante.
The Frenchman went on to make his move to Chelsea the very next summer, and Plancque, who departed Leicester in August, says Mahrez was determined to leave the Foxes the year after in search of a new challenge.
However, according to Claude Puel's former assistant, the club was unable to let him go at the time.
Leicester did sell Mahrez this past summer in a £60m ($77m) move to Manchester City, one that Plancque says worked out for all involved once the timing became correct.
"Riyad, he was very, very determined to leave," Plancque said. 
"Because he was already thinking of leaving the summer before. He thought he had an agreement with the club so he could leave if he had any requests. And the proposals, he had them, with those of Manchester City in particular.
"The problem is that the proposal arrived late and it was difficult to replace him, to prepare his succession. The club was not ready to see him leave.
"It was a good solution for the club and also for Riyad because that didn't prevent him from leaving in July for City.
"His first steps in Man City? I find that for his first matches, he didn't shine. We could see that he was trying to make his mark.
"But after a month, he is an important element and he has found his effectiveness. He scores and makes goals. I think he is progressing because he defends much more than in Leicester.
"I congratulate him personally because he is someone I really appreciate. In addition, he is trained by a superb coach and surrounded by exceptional players. And he will still progress."
While Mahrez and Kante have both since left in big money deals, Vardy remains Leicester's star and, at 31, it appears the forward's time for a big move is gone.
Plancque was full of praise for the English forward, citing Vardy's work ethic as a key factor in Leicester's rise and sustained run in the Premier League.
"He's a great professional, very conscientious, very serious and very involved in his club," Plancque said. 
"But, you know, there are players who have experience, and who have adopted work habits of which it's difficult to change.
"Sometimes you have to arrange it or accept the fact that from time to time the players want to manage themselves.
"Because the player has come to the point when he knows himself very well, and he knows he needs to do a little more one day, and a little less another to be able to perform on the day of the match."